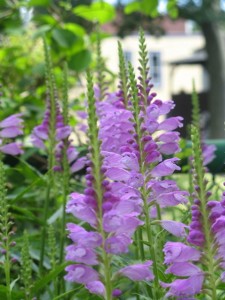 I think there must be a gardening gene, yet to be discovered in some secret strand of our DNA.  My paternal grandmother created one of the most beautiful and extensive rose gardens I've ever seen (and I'm a devoted rosarian) in the small Pennsylvania town where I grew up.  In the midst of the Depression, newly widowed and with six children to raise, she began what was to become a horticultural heaven on earth that remains to this day — in the hands of a first cousin — a lovely, edenic refuge.
I first heard the call — and it really did feel like an almost audible cry from somewhere outside — at a place we were renting in the Berkshire Hills of Massachusetts 20 years ago.  It was a ramshackle, brown shingled Cape that had once been surrounded by traditional perennial beds. After several decades of neglect, however, the gardens had become grassy and weed-choked.
On weekends when I'd planned to relax and recoup from a hectic life in the city, I found myself on my hands and knees, pulling up bishops weeds, digging out a border, and plugging the holes with begonias, geraniums, impatiens — all the usual, generic suspects from the local garden center.  At that point I didn't know the difference between an annual and a perennial — or that there even was one.  I just felt the thrill of a new infatuation — the yearning to know more and go deeper. I couldn't wait to get up to the house on Friday nights — jumping out of the car as soon we arrived to check on my plants, often in the dark, by flashlight.
What I came to realize that summer was that — unrealized for many years and quite unexpectedly — I'd found a calling. I was in my mid-thirties, a late bloomer, but I felt a kinship with my grandmother that I never had as a child.  That reserved, proper matron and I shared a wild and unquenchable love.  We were both gardeners.