And I think of roses, roses, White and Red, in the wide six-hundred-foot greenhouses, And my father standing astride the cement benches, Lifting me high over the four-foot stems, the Mrs. Russells, and his             own elaborate hybrids, And how those flowerheads seemed to flow toward me, to beckon me, Only a child, out of myself.   What need for heaven, then, With that man, and those roses?         — From 'The Rose' by Theodore Roethke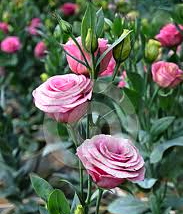 I thought of these lines from Theodore Roethke's long lyric poem this afternoon as I gazed out the kitchen window at the bank of crusted-over snow blanketing my Prairie Princess roses.  Yes, it's officially Spring but the ground is still frozen in the Berkshires, and there's yet another wintry mix in the forecast for early next week.  There's nothing much a gardener can do in these circumstances but gently brush off the top layer of snow in search of hyacinth and tulip shoots — and dream of the future.  Or, as in Roethke's case, think about the past.

The world has given us many wonderful nature poets, but I think Roethke is among America's greatest.  He was born in Saginaw, Michigan in 1908.  His father was a German immigrant who, along with his uncle, owned a large greenhouse and market where Roethke spent much of his time as a boy— and the imagery of those early days of gardening and the greenhouse infused his poetry throughout his career.   Another thing that would mark him for life was the suicide of his uncle and the death of his father when he was just 15.
'The Rose' is intensely lyrical and free-flowing  and it seems to be an exploration of self as well as a celebration of his childhood and his father.  Though Roethke could also write strictly metered, often very witty and playful poems, to my mind these longer sequences of rich meditation are what set him apart.  He suffered from manic depression through most of his adult life, was institutionalized repeatedly, and underwent intense psychoanalysis. Roethke was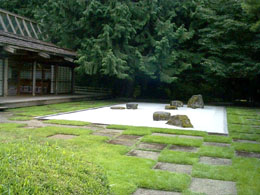 given the Pulitzer Prize and two National Book Awards, among many other honors and awards. He was a beloved teacher as well as a poet, and he worked himself tirelessly.  Like many poets of his generation he drank and smoked to excess.  And, like his father, he died young— at 55. He suffered a heart attack in a friend's swimming pool in 1963 on Bainbridge Island, Washington. The pool was later filled in and is now a zen rock garden (pictured above) which is open to the public.
Click here to read 'The Rose' it in its entirety: http://www.ronnowpoetry.com/contents/roethke/Rose.html
For more poems by and information on Theodore Roethke, click here: http://www.poets.org/poet.php/prmPID/13