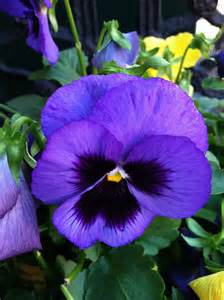 The shoes put on each time 
left first, then right…    —from 'Habit'  by Jane Hirshfield  
I planted pansies (Viola x wittrockiana) a few days ago in our window box and in the old cement urn I inherited from my mother.  Do I plant pansies this time of the year because I hope their bright, clownish faces might add a little color and humor to our all-too-slowly greening landscape? Or is it because my father used to plant them when I was a girl? Though his mother was a passionate gardener, my father never had time for more than the basics. He had seven mouths to feed and ran his consulting business from the top floor of the run-down Civil War-era mansion outside of Philadelphia where we lived.
But every spring, without fail, he'd buy a few flats of pansies and tuck them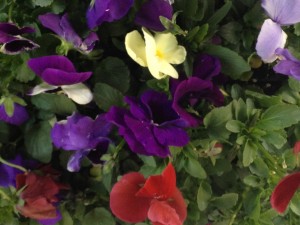 around our over-sized, neglected front yard in what I understand now to be a gardener's innate desire to bring order to a chaotic world. And so I do the same. "Which habits we learned from others
/and which are ours alone we may never know" writes Jane Hirshfield in her clever and insightful poem (see it in its entirety below). Though I'm not sure I agree with her notion that it's "unbearable to acknowledge how much [habits] are themselves our fated life." It seems to me our characters can't help but be embedded with bits and pieces of the past. If I smile into the mirror with the same artificial come-hither brightness that my mother once used, isn't it just a form of tribute to her long-departed vanity? Isn't there something comforting about following in the footsteps of those who came before? Repeating their mistakes, yes, but also repeating their once familiar gestures and routines. The "intimate and unthinking" things we do — that are as distinctive as the pansy′s bold features — mark us for life as belonging to a particular place and time and family.
What do you think?  Write to me in the comments section below.  I'd enjoy hearing from you!
HABIT by Jane Hirshfield    The shoes put on each time left first, then right.   The morning potion's teaspoon of sweetness stirred always for seven circlings—no fewer, no more— into the cracked blue cup.   Touching the pocket for wallet, for keys, before closing the door.   How did we come to believe these small rituals promise, that we are today the selves we yesterday knew, tomorrow will be?   How intimate and unthinking, the way the toothbrush is shaken dry after use, the part we wash first in the bath.   Which habits we learned from others and which are ours alone we may never know. Unbearable to acknowledge how much they are themselves our fated life.   Open the traveling suitcase—   There the beloved red sweater, bright tangle of necklace, earrings of amber. Each confirming: I chose these, I.   But habit is different: it chooses. And we, its good horse, opening our mouths at even the sight of the bit.    
For more poems by and information about Jane Hirshfield, please visit: http://www.poets.org/poetsorg/poet/jane-hirshfield