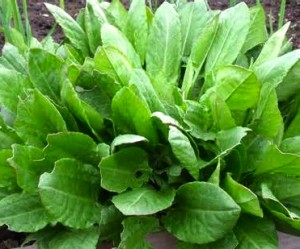 Sorrel's at its best early in the season, leafing out in the Berkshires about the same time fiddleheads and morels are putting in their own brief appearances. Like them, it has a pungent flavor, redolent of the soil from which it has so recently sprung. To bite into a sorrel leaf is to understand the meaning of sour. In fact, the word "sorrel" probably originates from "surele" which is the Old French word for sour. Though its rabbit-ear-shaped leaves are soft and delicate-looking, sorrel is a hardy and dependable presence in the herb garden. This cruel winter laid waste to my shrub-size phalanx of purple sage, but the sorrel shot back up without complaint or diminution, ready to be put to use.
But what to do with it? Sorrel, eaten raw, is definitely an acquired taste. People tend to love or loathe it. Shredded on top of chicory, say, and tossed with warm bacon and croutons, sorrel adds a tangy jolt of flavor. But a little of it goes a long way. And it's best not to eat too much uncooked sorrel at one sitting. Though loaded with good-for-you vitamins C and A and packed with potassium and iron, it also contains high amounts of oxalic acid —lending it that sour taste — which can put a strain on the kidneys. Heat tempers this problem. In fact, cooking sorrel transforms this sourpuss of an herb into a creamy, lemony treat. It makes a wonderful sauce for scallops and fish, especially salmon, and also goes well with chicken breasts. And recipes for sorrel soup can be found in Russia, Poland, Latvia, the Ukraine, and Eastern European Jewish cuisines where it is known as shav, shchav, or schavel. Whatever the spelling, I'm assured by friends who were brought up on the stuff that it's absolutely delicious. Here's a great recipe for it: http://www.food.com/recipe/shav-sorrel-soup-with-hard-boiled-egg-500204
My sorrel was at it peak over Memorial Day weekend when I made the simple and quickly prepared sauce below which I served over seared sea scallops. But this early leafing herb is already starting to bolt, sending up red-seeded sprays three or four feet into the air. The sorrel itself is still good for cooking, just strip the leaves off the toughening ribs before using.
 Sorrel Sauce
(makes 4 servings) 3 
tablespoons butter 2 
cups fresh sorrel leaves, sliced about 1-inch-wide 1/2 
cup chives, with flowers if possible 1/2 
cup heavy cream salt and pepper   In a large, wide skillet, melt the butter until it starts to turn a golden brown. Add the sorrel and chives to the butter and stir. Allow the herbs to wilt a little and then pour in the cream. Bring to a boil and reduce until the sauce coats the back of a spoon. Taste and adjust for salt and pepper. Serve on top of salmon, scallops, or chicken breasts, garnishing with chive flowers.