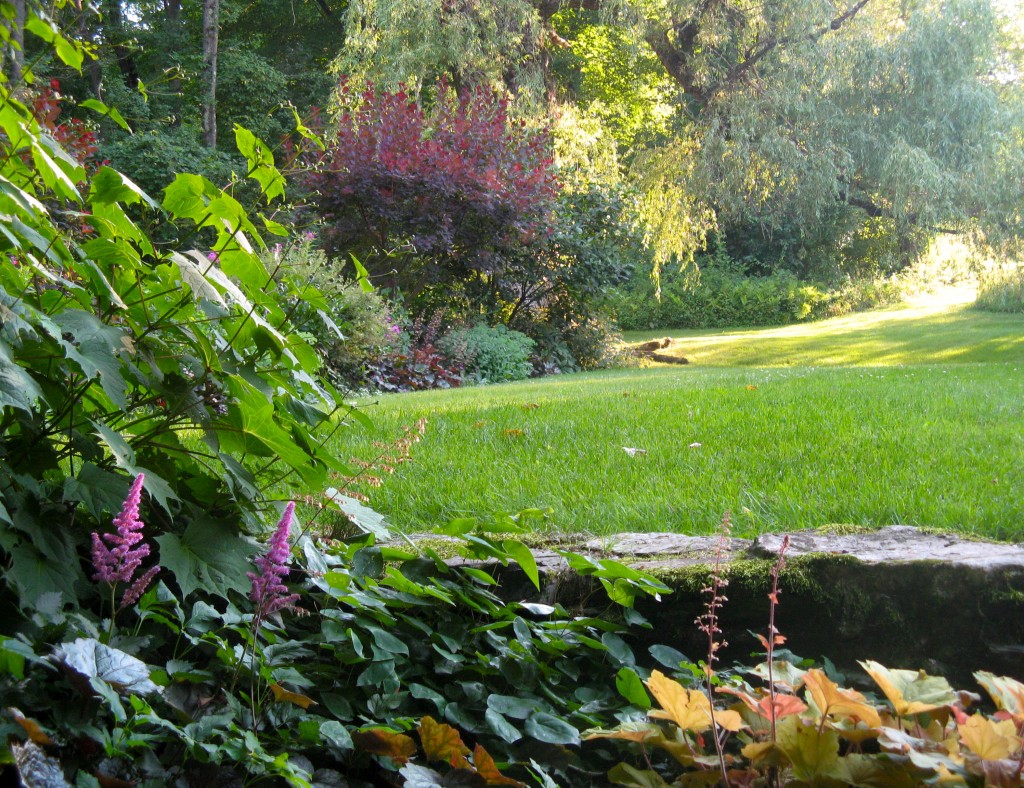 There comes a moment every summer when I realize that it's time to let the garden go. Though the phlox is finally coming into its own, and the Japanese anemone and turtleheads have yet to fully flower, I have to face the fact that there's nothing more I can do to change the course of this particular growing season. The dahlias are never going to reach the height I'd planned on, so their brilliant crimson faces will remain lost in the back row of the border garden. The Prairie Princess roses are still trying to find their footing after the long, brutal winter. The canna lilies didn't (yet again!) bloom.
But the inventory of disappointments is counter-balanced by the unexpected successes: the monarda and shasta daisies which are in the midst of re-flowering … the obedient plants spreading (obediently) under the smoke bush … the black hollyhocks that I'd given up on suddenly shooting up and unfurling dark, glossy, double-headed blooms.
I'm already thinking about what I'll do differently next year.  Joe Eck and his late partner Wayne Winterrowd — co-authors of some of the most delightful books on gardening I've ever read — have said that you know you're a gardener when, in the midst of weeding or planting, you'll look across the flower beds and find yourself making mental notes about next year's garden.  In my case:  "Next year I'm going to prune back the spirea bushes, and divide the hostas,  and transplant some of the geraniums. Next year I'm going to…
Maybe next year the garden I keep planning and hoping for — the one I see so clearly in mind — will finally materialize. Maybe next year the canna lilies will bloom. But for now, I'm letting all my expectations go and enjoying the last few weeks of what actually is.
Here's a poem by Donald Hall about his wife Jane Kenyon's garden — and a different kind of letting go. Both acclaimed poets, Hall and Kenyon moved in 1975 to Eagle Pond Farm in Wilmot, New Hampshire which had been in Hall's family for many generations. They lived and wrote and gardened there together until Jane Kenyon died from leukemia in 1995 at the age of forty-eight.
Her Garden
by Donald Hall   I let her garden go. let it go, let it go How can I watch the hummingbird Hover to sip With its beak's tip The purple bee balm – whirring as we heard It years ago?   The weeds rise rank and thick let it go, let it go Where annuals grew and burdock grows Where standing she At once could see The peony, the lily, and the rose Rise over brick.   She'd laid in patterns. Moss let it go, let it go Turns the bricks green, softening them By the gray rocks Where hollyhocks That lofted while she lived, stem by tall stem, Blossom with loss.  
For more poems by Donald Hall please visit: http://www.poets.org/poetsorg/poet/donald-hall
For more about Joe Eck and the late Wayne Winterrowd, and North Hill, their beautiful garden in Vermont, please visit: http://www.northhillgarden.com