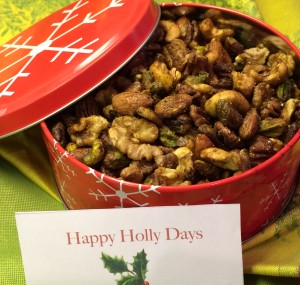 There's nothing quite as tempting and delicious at a cocktail party as a handful of mixed nuts that have been roasted and spiced, though it's unlikely you'll be able stop at just one handful. My sister-in-law Beverly, a first-class cook and the embodiment of Southern hospitality, seems to travel with a tin of these nuts — freshly roasted and redolent of spices— wherever she goes. Luckily for us, she brought some with her to our place over Thanksgiving, and we served them with a cheese tray and white wine. They disappeared instantly.
I've tried to recreate what I could remember of Bev's version over the years. I've gone heavy on the curry and cumin when I scatter the nuts over sliced duck breast salad served with chopped dates and sherry vinaigrette. Dusted with nutmeg and cinnamon, they're a great addition to store-bought granola. But the version of Bev's that I tasted over Thanksgiving made me realize that, with all my tinkering, I'd lost something essential in my own translation of her classic. Her spiced nuts somehow maintained the perfect balance of sweet and salty, crunchiness and heat. Though I know Southern cooks often hold favorite recipes as close to their aprons as family secrets, I asked Bev if she could give this one up and she kindly obliged.  Make a batch for yourself and another one to give away or bring to your next party — these are guaranteed to be a hit.
Thanks, Bev, and happy holidays, everyone!
Bev's Really Good Spiced Nuts
  Note: This recipe can be cut in half.   6 cups of assorted plain nuts of more or less equal size (not roasted or salted), such as pecans, walnuts, pistachios, macadamias or whole almonds (not slivered or sliced) 1/4 cup pure maple syrup 2 tablespoons plain vegetable oil, such as Crisco 3/4 teaspoon salt 1 1/2 teaspoons dry ground ginger 1 teaspoon ground coriander 1 teaspoon ground cumin 1/8 teaspoon cayenne pepper, or more to taste Cooking oil spray  
Preheat the oven to 350 degrees F.
Place the nuts in a large mixing bowl. Add the syrup and oil, and toss. Sprinkle on the salt, ginger, coriander, cumin and cayenne pepper. Toss until this is thoroughly mixed.
Spay a large baking sheet that has a rim with cooking oil spray. Pour the nuts evenly onto the pan. Bake, removing the pan from the oven to stir the nuts after every 5 minutes, until the nuts are toasted and have absorbed the syrup, about 18 to 22 minutes.
Makes 6 cups.  Store at room temperature in an air-tight container.