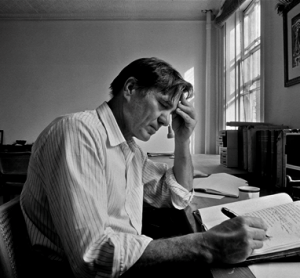 Galway Kinnell, one of America's most honored and beloved poets, died last October at the age of 87. He was a physically imposing man — with a tough-guy face that belied a gentle and generous nature. He believed that the job of poets was to bear witness. "To me," he said, "poetry is somebody standing up, so to speak, and saying, with as little concealment as possible, what it is for him or her to be on earth at this moment."
He received instant recognition as a major new voice in 1960 with the publication of 'The Avenue Bearing the Initial of Christ into the New World,' a 14-part lyric meditation about Avenue C on Manhattan's Lower East Side that pays homage to Walt Whitman while breaking entirely new ground. Here's how it begins:
pcheek pcheek pcheek pcheek pcheek They cry. The motherbirds thieve the air To appease them. A tug on the East River Blasts the bass-note of its passage, lifted From the infra-bass of the sea. A broom Swishes over the sidewalk like feet through leaves. Valerio's pushcart Ice Coal Kerosene Moves   clack clack clack On a broken wheelrim.  
He published more than two dozen books of poetry, including 'Selected Poems' which won the Pulitzer Prize and the National Book Award. He was a noted translator, essayist, and deeply admired teacher. Though the New York Times cited his body of work as one that "pushed deep into the heart of human experience in the decades after World War II," he was also a fine nature poet. Here's an early poem that I love:
Spring Oak   Above the quiet valley and unrippled lake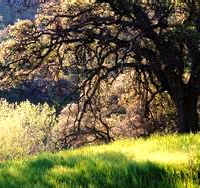 While woodchucks burrowed new holes, and birds sang,   And radicles began downward and shoots Committed themselves to the spring
And entered with tiny industrious earthquakes,
A dry-rooted, winter twisted oak
Revealed itself slowly. And one morning
While the valley underneath was still sleeping
It shook itself and it was all green.