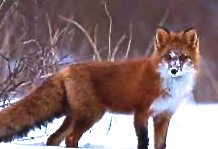 One grey day in the frozen depths of winter, I saw a flash of gold in the woods behind our place: fox!  It moved with a wonderful fluidity and sense of purpose, but wary and close to the ground. Later, my husband thought he saw it again —disappearing down the old woodchuck hole in the underbrush — but then months went by without another sighting.
We consider foxes a blessing. Whenever they're on our property, the woodchuck population drops precipitously. Whether the foxes eat them — or just scare them off — it's hard to say. But we do know they tend to repurpose the woodchuck burrows for their own dens. It was heartening to see one apparently scouting out a new home in a known woodchuck neighborhood.
My heart sank in mid-April when I spotted a woodchuck waddling in a proprietary way along the border garden. Sure enough, the next morning, my early tulip shoots had been gnawed down to nubs. I planted the pansies anyway, resigned to the fact that the woodchucks would consider the freshly filled urn their own personal snack bowl. So I was surprised when the pansies were left untouched for a whole week … then another.
This past weekend we discovered why: four fox kits gamboling in the sunshine not far from the woodchuck hole that had clearly become their den. Then we saw the vixen, standing on alert nearby. When she spotted us, she barked — yip, yip, yip, yip — as if counting her young, and they all tumbled back into their hole.
Here's a poem about foxes which I think beautifully captures their solitary natures.
Fox   by Caki Wilkinson   The yards grow ghosts. Between the limbs and wings, bleached street-lit things, I'm best at moving on. Hunt-heavy, gray, slunk overlow like so much weight got in the way, my shape's the shape of something missed, flash-pop or empty frame. Though you could say I've made a game of this, and though midtrickery it might be true, when evening lingers in the key of leaving my senses swoon. A synonym for stay, I'm always coming back. I chew through traps. I love whatever doesn't get too close.    
I wasn't able to get close enough to the fox and kits to take photos without scaring them.  I "borrowed" these shots from the internet.  The shot of the kits, especially, is remarkably close to what I see through my binoculars.