Here′s a guest post that I hope will add a smile to these last bittersweet days of summer: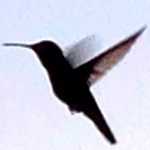 Walking along a Berkshire country road the other day, whom should I bump into but the god-like ornithologist Bert Humbert, whose colleagues have long believed that his eye is always on the hummingbird even if the hummingbird has yet to fall.
"Professor," I said, "I see you've been taken to task by the Scandinavian magazine Hohumn for denying that a reclassification of hummingbird sexuality is long overdue."
"Humph!" he expostulated. "Those socialist birders don't know bupkis."
"But the article claims that a majority of ornithologists are now convinced that any study of, shall we say, himingbirds and heringbirds must now include the recently identified itingbird."
"It's all humbug," he said, nervously twisting his binocular strap.
"But isn't the idea of an itingbird transformative—or at least interesting?"
"When I get done with Hohumn they'll be eating humble pie."
"But itingbirds, evidently, can do everything the him and the her birds can do and even fly rings around them sometimes."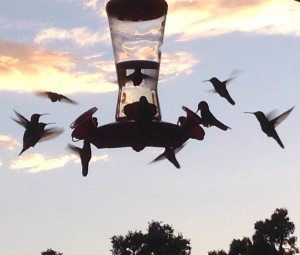 "Greedy at the sugar-water bottle, show-offs on the clothesline, only too eager to pose with another bird for a selfie. They ought to be kicked out of the Trochilidae family."
"But professor, it seems that while some itingbirds are just as humdrum as the ordinary brown sparrow, others have turned out to be real humdingers."
"But, but, but, but—can't you begin a sentence with something other than but?"
"I'd like to use another word, sir, but I can't think of one that fits so precisely."
"Hmm," Humbert said, stepping up to take a closer look at me. "You're Bennett, aren't you, the mediocre Latinist my friend Zandtdahler had a run-in with on Captiva island. Who are you to ask me questions? What the hell would you know about Trochilidae?"
I bowed humbly and continued down the road, keeping an ear open for any kind of humming that might come my way.
— W. E. Bennett