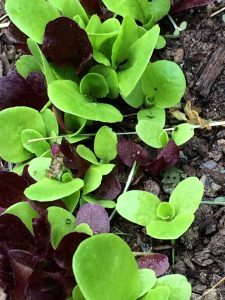 I spent most of the weekend on my hands and knees planting seeds in our vegetable garden. I'm a firm believer in the "square foot" gardening method developed by the late Mel Barthelme who advocated the use of raised beds and planting in tight rows inside 12 x 12 inch grids. Over the years, the grid has given way to a more relaxed and larger planting swath, but our eight raised beds — each about the size of a twin mattress — still yield enough lettuces, beans, peas, cucumbers, tomatoes, and cutting flowers to keep us out of the greengrocers from June until early October.
Most gardeners in Southern New England probably share my belief that the only crops you can consistently count on every year are pebbles, rocks, and stones. Though they don't entirely solve the problem, the raised beds make it much easier to amend the soil and keep it evenly moist. They also add a comforting sense of order to a process that — due to the vagaries of the elements — remains an iffy undertaking. Already this spring, we lost most of our pear blossoms to a late frost and the chipmunks dug up and carted away almost an entire bed of sugar snap peas.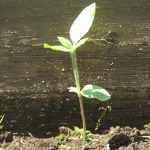 Still, like Robert Frost in the sonnet below, I am a "slave to a springtime passion for the earth." And there's nothing quite as satisfying as watching the "sturdy seedling with arched body … shouldering its way" — or as delicious as freshly picked arugula you planted yourself.
PUTTING IN THE SEED
by Robert Frost
You come to fetch me from my work to-night
When supper's on the table, and we'll see
If I can leave off burying the white
Soft petals fallen from the apple tree
(Soft petals, yes, but not so barren quite,
Mingled with these, smooth bean and wrinkled pea);
And go along with you ere you lose sight
Of what you came for and become like me,
Slave to a Springtime passion for the earth.
How Love burns through the Putting in the Seed
On through the watching for that early birth
When, just as the soil tarnishes with weed,
The sturdy seedling with arched body comes
Shouldering its way and shedding the earth crumbs.