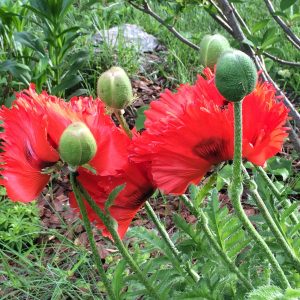 The poppies are in bloom in what I call my sun garden. Though it's actually more a haphazard collection of flora, thrown together on a stretch of land that's half hill and part swamp. It's a cutthroat kind of neighborhood for plants, and only the intrepid survive. But those that do — monkhead, monarda, shasta daises, blue lobelia, goose-neck loosestrife — tend to thrive. Like most toughs, they're constantly angling for more territory, and I tend to just let them fight it out.
I'm not quite sure when the poppies took over their little corner, though I have a vague memory of being given a free packet of poppy seeds with an order of wild flower mix a few years back. I don't think they flowered the first summer, but they've been a fixture in the June garden ever since: loud and louche, making everything around them look a little tame.
Here's a wonderful poem about poppies and — like all good poems — about so much else.
POPPIES
by Jennifer Grotz
There is a sadness everywhere present
but impossible to point to, a sadness that hides in the world
and lingers. You look for it because it is everywhere.
When you give up, it haunts your dreams
with black pepper and blood and when you wake
you don't know where you are.
But then you see the poppies, a disheveled stand of them.
And the sun shining down like God, loving all of us equally,
mountain and valley, plant, animal, human, and therefore
shouldn't we love all things equally back?
And then you see the clouds.
The poppies are wild, they are only beautiful and tall
so long as you do not cut them,
they are like the feral cat who purrs and rubs against your leg
but will scratch you if you touch back.
Love is letting the world be half-tamed.
That's how the rain comes, softly and attentively, then
with unstoppable force. If you
stare upwards as it falls, you will see
they are falling sparks that light nothing only because
the ground interrupts them. You can hear the way they'd burn,
the smoldering sound they make falling into the grass.
That is a sound for the sadness everywhere present.
The closest you have come to seeing it
is at night, with the window open and the lamp on,
when the moths perch on the white walls,
tiny as a fingernail to large as a Gerbera daisy
and take turns agitating around the light.
If you grasp one by the wing,
its pill-sized body will convulse
in your closed palm and you can feel the wing beats
like an eyelid's obsessive blinking open to see.
But now it is still light and the blackbirds are singing
as if their voices are the only scissors left in this world.