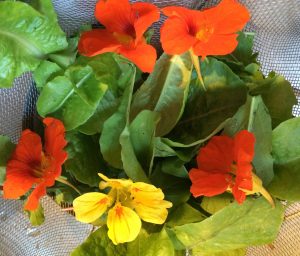 After a slow start, my nasturtiums are finally hitting their stride. I love these bright, happy flowers! They're versatile, even-tempered, and ever-willing. Toss them into a salad — "no problem!" you can almost hear them say. Add them for color and drape to a window box or planter, surrounded by more hoity-toity annuals, and nasturtiums will find a way to fit right in.   Lately, I've been experimenting with pestos. Parsley,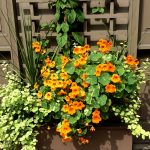 arugula, tomatoes have all gone under the Cuisinart knife. And wouldn't you know it? The spicy nasturtium turns out to be the perfect foil for pine nuts, garlic, and parmesan. Fold it into a seafood risotto or spread it across a fresh baguette for the base of a wonderful sandwich or — what the heck, it's summer! — just lick it right off the spoon.
Ingredients
2 cups cleaned nasturtium leaves
1/2 cup thinly sliced nasturtium stems
1/2 cup toasted pine nuts
4 cloves garlic
1 cup olive oil
1/4 cup freshly grated Parmesan cheese
Directions
Bring a large pot of water to a boil and dunk nasturtium leaves for just 10 seconds. Drain and transfer to ice-water bath until cool, then thoroughly pat dry with paper towel.
Place leaves, pine nuts, garlic, and oil in the Cuisinart; blend until smooth. Transfer mixture to a medium bowl and fold in stems and cheese.
Bon appétit!