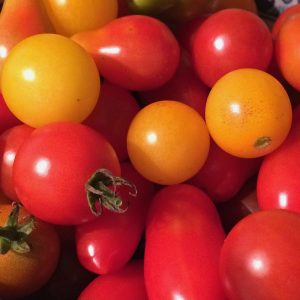 This long stretch of hot dry weather has left me with an embarrassment of cherry tomatoes. Though nothing's quite as satisfying as a ripe tomato hot off the vine, I've discovered a pesto that freezes beautifully and keeps the cherry's bright summery taste alive right into the winter months. The recipe (from Bon Appetit) calls for walnuts, anchovies, and basil (and luckily I have bushels of lemon basil on my hands right now, as well). I've also made it without the anchovies, adding extra salt to help balance the tastes.
I think this pesto is as rich and satisfying as a Bolognese sauce — a hearty and healthy meatless entrée. Buon appetito!
Ingredients
Servings: 4
⅔ cup walnuts
2 pints cherry tomatoes, halved
2 tablespoons plus ⅓ cup olive oil, plus more for drizzling
Kosher salt
6 oil-packed anchovies, coarsely chopped
2 garlic cloves, coarsely chopped
1 teaspoon finely grated lemon zest
¼ teaspoon crushed red pepper flakes
½ ounces Parmesan, finely grated (about ½ cup), plus more for serving
1 teaspoon freshly ground black pepper
12 ounces spaghetti
½ cup (packed) basil leaves
Preparation
Preheat oven to 350°. Toast walnuts on a rimmed baking sheet, tossing once, until slightly darkened, 8–10 minutes. Let cool.
Heat broiler. Toss tomatoes with 2 Tbsp. oil on a rimmed baking sheet; season with salt. Broil, tossing once, until tomatoes are blistered and have released some of their liquid, 5–7 minutes. Let cool.
Pulse anchovies, garlic, lemon zest, red pepper flakes, and ½ oz. Parmesan in a food processor until finely ground. Add walnuts and half of tomatoes, then, with motor running, stream in ⅓ cup oil; process just until combined. Season with salt. Transfer pesto to a large bowl and stir in black pepper.
Cook pasta in a large pot of boiling salted water, stirring occasionally, until al dente. Drain, reserving ½ cup pasta cooking liquid.
Transfer pasta to bowl with pesto and add a splash of pasta cooking liquid. Toss, adding more cooking liquid as needed, until sauce coats pasta. Add basil and remaining tomatoes.
Divide among bowls; top with more Parmesan and black pepper and drizzle with oil.
Do Ahead: Pesto can be made 1 day ahead. Cover and chill.  You can freeze it, too, for at least three months — and maybe more — but mine never lasts that long!