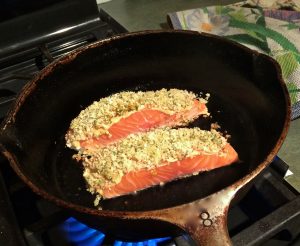 I inherited a beautifully seasoned cast iron skillet from my mother who very likely had inherited it from her mother. It's an 8-inch Wagner Ware Sidney O model, and a little on-line research into its lineage indicates that it was produced in 1922 by the Wagner Manufacturing Company, based in Sidney, Ohio. There's something comforting about cooking with a skillet that's been in the family for three generations, especially one that's been treated with such love. Cast iron only gets better with age and use, and the inside of my skillet gleams with a beautiful hard dark patina that makes it ideal for searing and high heats.
Here's a simple and delicious recipe by the wonderful Ina Garten for salmon, cooked in a cast iron skillet (or any oven-proof pan), followed by some good tips for cleaning and care of cast iron cookware.
Panko-Crusted Salmon
Ingredients:
2/3 cup panko (Japanese dried bread flakes)
2 tablespoons minced fresh parsley
1 teaspoon grated lemon zest
Kosher salt and freshly ground black pepper
2 tablespoons good olive oil
4 (6- to 8-ounce) salmon fillets, skin on
2 tablespoons Dijon mustard
2 tablespoons vegetable oil
Lemon wedges, for serving
Directions:
Preheat the oven to 425 degrees.
In a small bowl, mix together the panko, parsley, lemon zest, 1/2 teaspoon salt, and 1/2 teaspoon pepper. Drizzle with the olive oil and stir until the crumbs are evenly coated. Set aside.
Place the salmon fillets, skin side down, on a board. Generously brush the top of the fillets with mustard and then sprinkle generously with salt and pepper. Press the panko mixture thickly on top of the mustard on each salmon fillet. The mustard will help the panko adhere.
Heat the vegetable oil over medium-high heat in a 12-inch cast-iron skillet or large, heavy ovenproof pan. When the oil is very hot, add the salmon fillets, skin side down, and sear for 3 to 4 minutes, without turning, to brown the skin.
Transfer the pan to the hot oven for 5 to 7 minutes until the salmon is almost cooked and the panko is browned. Remove from the oven, cover with aluminum foil, and allow to rest for 5 to 10 minutes. Serve the salmon hot or at room temperature with lemon wedges.
Caring for Cast Iron:
Keep it clean. We don't recommend letting your cast iron soak. Wash your (preferably still warm) pan with hot water and use a sponge or stiff non-metal brush to remove cooking residue. To slough off tough bits of stuck-on food, pour a cup of coarse kosher salt into a still-warm skillet. Squeeze a folded kitchen towel with tongs and scrub the pan with the salt. Toss the salt and rinse the pan with hot water.
Dry it completely, every time. Moisture is the enemy. Not properly drying your cast iron can cause it to rust. So after rinsing, dry it well and place it on the stove-top over low heat. Allow to dry for a few minutes, then use a cloth or paper towel to rub it with a little shortening, lard, bacon grease, or vegetable oil. Heat for 5 to 10 minutes, remove from heat, and allow to cool. Wipe with another cloth or paper towel to remove excess grease.
Store it carefully. Keep your cast iron cookware in a dry place with the lids off to avoid rusting. If rust appears, scour your pan with steel wool to remove it and re-season the pan.