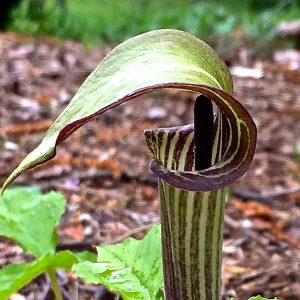 A small congregation of jack-in-the-pulpits sprouted up seemingly overnight in a patch of newly spread pine bark mulch. I'm not sure whether they traveled as stow-aways in the mulch bags or transplanted themselves from our own woodlands, since these North American natives thrive in moist thickets from Nova Scotia to Florida. They reminded me of the Emily Dickinson poem about going to church by finding heaven in your own backyard. Of the many things I admire about Dickinson, her determination to eschew organized religion is right up there on my list.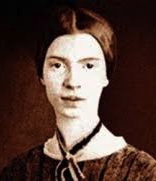 Though I found the recent movie about her life — "A Quiet Passion" — overly somber, there was a terrific scene near the beginning where she point-blank refused to join the Calvinist revival sweeping through New England at that time. "I am one of the lingering bad ones," she told a friend.  That same spirit of proud rebellion is evident in this lovely poem:
Some Keep the Sabbath Going to Church 
By Emily Dickinson
Some keep the Sabbath going to Church –
I keep it, staying at Home –
With a Bobolink for a Chorister –
And an Orchard, for a Dome –
Some keep the Sabbath in Surplice –
I, just wear my Wings –
And instead of tolling the Bell, for Church,
Our little Sexton – sings.
God preaches, a noted Clergyman –
And the sermon is never long,
So instead of getting to Heaven, at last –
I'm going, all along.