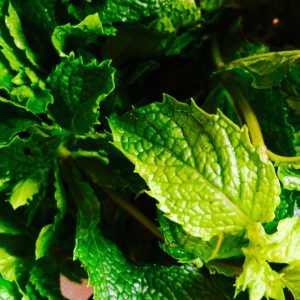 It was foolish of me to plant mint in one of the raised beds in my vegetable garden years ago. Mint was born to be wild. It refuses to stay boxed in. Every summer it seems to discover a new escape route — digging underground to pop up in the middle of the marjoram patch or making a bold public grab for purple sage territory. And I have to pull it out by the roots — a thick leggy network that always puts up quite a fight. But the smell that fills the air — that burst of pure freshness — is almost worth the struggle in itself. And then there's the happy dilemma of what to do with handfuls of fresh mint.
Luckily, we had a lot people to feed this weekend and had to double the recipe for watermelon, tomato, feta, and fresh mint salad. We drank gallons of Mint Sun Tea. And we made what's become my favorite summer potato salad because of its unusual medley of tangy flavors: lemon, mint, and scallion. Here's the recipe, followed by a poem that also features mint as a main ingredient.
Potato Salad with Mint and Lemon
Ingredients
2 pounds small waxy white or yellow potatoes, roughly about the same size
Juice of 1 lemon, more for serving
1 ½ teaspoons kosher salt, more as needed
½ cup extra-virgin olive oil
½ cup thinly sliced scallions, white and light green parts, more for serving
¼ cup torn mint leaves, more for serving
¼ teaspoon black pepper, more for serving
Preparation
Place whole unpeeled potatoes in a large pot with enough salted water to cover by 1 inch. Bring to a boil over medium-high heat and cook until potatoes are just tender, 15 to 25 minutes depending upon size. Drain and cut potatoes into 1 1/2-inch chunks as soon as you can handle them.
In a bowl, whisk together lemon juice, salt and olive oil.
Transfer hot potatoes to a large bowl and toss with dressing, scallions, mint and black pepper. Let cool to room temperature, or refrigerate until ready to use. Just before serving, top with additional lemon juice, scallions, mint and black pepper.
Red Brocade
by Naomi Shihab Nye
The Arabs used to say,
When a stranger appears at your door,
feed him for three days
before asking who he is,
where he's come from,
where he's headed.
That way, he'll have strength
enough to answer.
Or, by then you'll be
such good friends
you don't care.
Let's go back to that.
Rice? Pine nuts?
Here, take the red brocade pillow.
My child will serve water
to your horse.
No, I was not busy when you came!
I was not preparing to be busy.
That's the armor everyone put on
to pretend they had a purpose
in the world.
I refuse to be claimed.
Your plate is waiting.
We will snip fresh mint
into your tea.