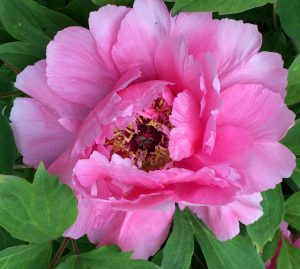 The tissue-thin poppy petals have scattered to the ground just as the dart-shaped buds of the clematis unfurl before our eyes. New shapes and colors are emerging in the garden every day now— and this year, because the spring was so cool and damp, everything seems bigger and brighter than usual. I had to trim dozens of marble-sized pears from the espaliers this week as the branches were already bowing under the weight of so much fruit. The tree peony flowers were the size of baby Munchkin heads (see above).  In fact, the whole garden keeps reminding me of Oz. After an endless black-and-white winter, I feel as though we've landed with a thump right in the middle of a full-scale Technicolor razzle-dazzle June. It's all wonderful, of course, but also a bit overwhelming. Here's the American novelist and poet Marge Piercy on the very subject.
More Than Enough
By Marge Piercy
All over the sand road where we walk
multiflora rose climbs trees cascading
white or pink blossoms, simple, intense
the scene drifting like colored mist.
The arrowhead is spreading its creamy
clumps of flower and the blackberries
are blooming in the thickets. Season of
joy for the bee. The green will never
again be so green, so purely and lushly
new, grass lifting its wheaty seedheads
into the wind. Rich fresh wine
of June, we stagger into you smeared
with pollen, overcome as the turtle
laying her eggs in roadside sand.