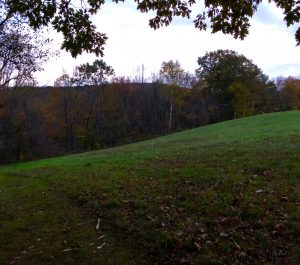 I've spent the last few days taking down the garden, cutting back the ranks of shasta daisies and phlox that stood sentinel all summer over the more free-spirited orders of pulmonaria, anemone, and bleeding heart. They're mostly stubble now, except for a few stands of echinacea that I left for the birds to finish off.  It was cold work.  But satisfying, too, harking back to the age-old practice of bringing in the sheaves.  As the leaves fall, the contours of the mountain we face take shape again — an enormous iceberg emerging from the fog.  We're getting back down to the essentials, and soon we'll be surrounded by the monotones of winter.
"Down to the Puritan marrow of my bones," lines from the American poet Elinor Wylie, kept drifting through my mind as I worked.  She was a contemporary of the far more famous Edna St. Vincent Millay, also beautiful and tempestuous, but dying young and leaving behind a scandal-scarred life and eight novels and books of poetry.  Most seem archaic now, but this poem (here are the first and final verses) from her most successful book Nets to Catch the Wind, still resonates.
Wild Peaches
by Elinor Wylie
1 
When the world turns completely upside down
You say we'll emigrate to the Eastern Shore
Aboard a river-boat from Baltimore;
We'll live among wild peach trees, miles from town,
You'll wear a coonskin cap, and I a gown
Homespun, dyed butternut's dark gold colour.
Lost, like your lotus-eating ancestor,
We'll swim in milk and honey till we drown.
The winter will be short, the summer long,
The autumn amber-hued, sunny and hot,
Tasting of cider and of scuppernong;
All seasons sweet, but autumn best of all.
The squirrels in their silver fur will fall
Like falling leaves, like fruit, before your shot.
4
Down to the Puritan marrow of my bones
There's something in this richness that I hate.
I love the look, austere, immaculate,
Of landscapes drawn in pearly monotones.
There's something in my very blood that owns
Bare hills, cold silver on a sky of slate,
A thread of water, churned to milky spate
Streaming through slanted pastures fenced with stones.
I love those skies, thin blue or snowy gray,
Those fields sparse-planted, rendering meagre sheaves;
That spring, briefer than apple-blossom's breath,
Summer, so much too beautiful to stay,
Swift autumn, like a bonfire of leaves,
And sleepy winter, like the sleep of death.