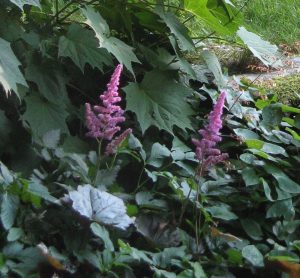 Look carefully at the photo to the right and you'll see, nestled between the proud crimson plumes of the two astilbes and surrounded by the delicate leaves  of epimedium and heuchera, the innocuous-looking face-in- the-crowd that is bishop's weed. Also known as goutweed and snow-in-the-mountain, bishop's weed is hiding in plain sight in every shady nook of my garden.  It's a shape-shifter of a plant, insinuating itself into a gaggle of ladies mantle, hovering in the shade of astrantia fronds, trying to fit in — and almost, but never quite — pulling it off.  But pulling is what you'll do if bishop's weed gets a foothold in your garden.  Not only does it spread by seed, but it quickly establishes large underground networks of rhizomes, strong as plastic netting and almost impossible to rout out.
I'm a pretty open-border type of gardener.  Well-behaved and attractive migrant  "volunteers" such as mountain bluet, splurge, and blue lobelia are always welcome and free to stay as long as they like. But bishop's weed is a "bad hombre", a bully that sucks up territory and nutrients and strangles the life out of anything around it.
Here's a recent mug shot: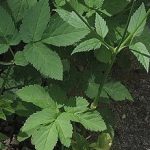 Please be on the look-out.
Weeds
by Edna St. Vincent Millay
White with daisies and red with sorrel
   And empty, empty under the sky!—
Life is a quest and love a quarrel—
   Here is a place for me to lie.
Daisies spring from damnèd seeds,
   And this red fire that here I see
Is a worthless crop of crimson weeds,
   Cursed by farmers thriftily.
But here, unhated for an hour,
   The sorrel runs in ragged flame,
The daisy stands, a bastard flower,
   Like flowers that bear an honest name.
And here a while, where no wind brings
   The baying of a pack athirst,
May sleep the sleep of blessèd things,
   The blood too bright, the brow accurst.