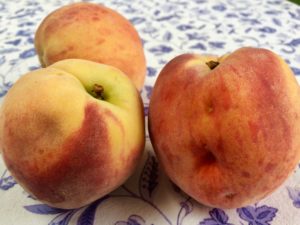 These days you can consume most kinds of fruit any time of the year —apples in May, strawberries in November.  Many are shipped in refrigerated trucks and airplanes from around the world and can pass for fresh and edible. But peaches, the most delicate and succulent of stone fruit, don't travel well.  It's true that they can be trucked up from Georgia during July and August, but even then they'll suddenly turn airy and tasteless as paper towel.  The best peaches are local (ours are coming from Germantown, New York), and we're in that sweet spot— a three-week stretch at most — when they're at their absolute best. And there's nothing better.  Bite into a fresh, ripe peach and you're transported back to the warmest, happiest summers of your childhood.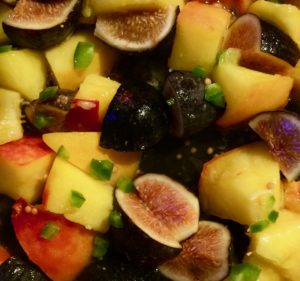 Here's a recipe for Peach and Fig Chutney — a wonderful way to make use of bruised or overripe peaches —  that's delicious with grilled chicken, pork, duck or dolloped on top of your yogurt in the morning.  And don't miss the following poem that perfectly captures this all-too-fleeting moment in time.
Peach and Fig Chutney
adapted from The Union Square Cookbook
1 pound ripe peaches, unpeeled
1 tablespoon fresh lime juice
1/2 pound fresh ripe figs, such as Black Mission
3/4 cup cider vinegar
4 tablespoons honey
1 1/4 teaspoons mustard seeds
1 1/2 tablespoons minced pickled ginger
Pinch of kosher salt
1 tablespoon minced jalapeño
1/4 teaspoon tamarind paste (optional)
Cut the peaches in half, remove the pits, and cut each half into 1 1/2 inch chunks. Toss the peaches with the lime juice and set aside. Remove the fig stems and quarter the figs lengthwise. Set aside.
In a skillet, combine the vinegar, honey, mustard seeds, pickled ginger, salt, and tamarind. Place over moderate heat and reduce to a syrup, 6-8 minutes. Stir in the peaches and cook over low heat, covered, until softened but not mushy. This will take 5-15 minutes, depending on the ripeness of the fruit. Add the figs and jalapeño and cook, covered, an additional 5 minutes.
Remove from the heat, transfer to a bowl, and cool. Serve at room temperature or chilled. Makes 2 1/2 cups.
From Blossoms
by Li-Young Lee
From blossoms comes
this brown paper bag of peaches
we bought from the boy
at the bend in the road where we turned toward   
signs painted Peaches.
From laden boughs, from hands,
from sweet fellowship in the bins,
comes nectar at the roadside, succulent
peaches we devour, dusty skin and all,
comes the familiar dust of summer, dust we eat.
O, to take what we love inside,
to carry within us an orchard, to eat
not only the skin, but the shade,
not only the sugar, but the days, to hold
the fruit in our hands, adore it, then bite into   
the round jubilance of peach.
There are days we live
as if death were nowhere
in the background; from joy
to joy to joy, from wing to wing,
from blossom to blossom to
impossible blossom, to sweet impossible blossom.