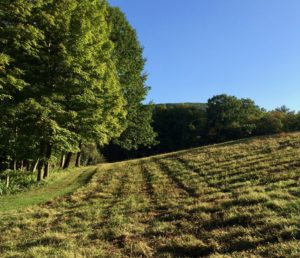 As the days grow shorter and shadows lengthen, the contours of the newly mown field and the sloping shoulders of the mountain ridge come into focus again. Summer's exuberant abundance — the drifts of phlox and unruly ranks of wild flowers — has given way to a stricter, more measured order. Change is everywhere, though still as gradual as the shifting sunlight. It's warm enough for the cosmos to keep blooming, but they're aging beauties now, their desiccated flower heads nodding on thinning stalks. The morning birdsong — a month ago a chorus of summer visitors — has been reduced to the shrill bickering of three crows at the bottom of the paddock.
I think this poem by W.S. Merwin, an acclaimed poet and translator, perfectly captures this in-between moment. Merwin, a practicing Buddhist who died this past March at the age of 91, lived for many years on Maui where he and his wife Paula transformed an old pineapple plantation into an extraordinary botanical paradise that included over 100 species of palm trees.  I met him several times over the years. Though he had an extraordinary, almost luminous, presence, I found much of his poetry obscure — on the printed page, at least.  When he read it aloud, confusion fell away and everything in the world made absolute sense.
To the Light of September
by W. S. Merwin
When you are already here
you appear to be only
a name that tells of you
whether you are present or not
and for now it seems as though
you are still summer
still the high familiar
endless summer
yet with a glint
of bronze in the chill mornings
and the late yellow petals
of the mullein fluttering
on the stalks that lean
over their broken
shadows across the cracked ground
but they all know
that you have come
the seed heads of the sage
the whispering birds
with nowhere to hide you
to keep you for later
you
who fly with them
you who are neither
before nor after
you who arrive
with blue plums
that have fallen through the night
perfect in the dew.