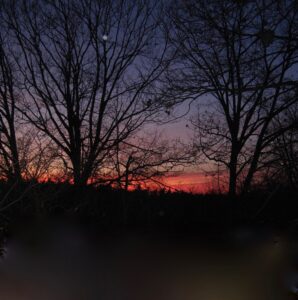 It gets dark a little earlier every afternoon now. The shift accelerated a few weeks ago when we turned the clocks back. Our house, tucked into a rise on the side a long hill, falls into shadow even sooner than for our neighbors up the road.  The sun snags on the top of the tree line some time after 4 o'clock most afternoons and then collapses like a spent balloon, brightness bleeding out into the hardening ground. We tend to think of January and February as the dark of winter, but December is actually the darkest month of year. Every day we lose another few minutes of daylight, culminating in the Winter Solstice, December 21, which in our area will mean we'll see just a little over nine hours of sunlight.  How fast the night takes hold in the final weeks of this year of pandemic and uncertainty and Blursdays. Here's a light poem on the subject to help offset the lengthening shadows.
Daylight Savings
by Tess Taylor
How strange it is as we verge on November
and the fields go bare, and days grow tighter
to wake and find, as if from thin air
an unexpected gift: An extra hour.
This generosity recalls the summer's
easy August days, time and desire
to make long love and read the paper,
both. Unanticipated leisure
makes the passing morning lighter.
The sun on empty vines and stubble fields seems cleaner.
Encroaching thoughts of cold seem further off.
Seem – that is to say, these are measured offers:
by afternoon the light's late illusion falters.
A cold dark keeps arriving, punctually, sooner.