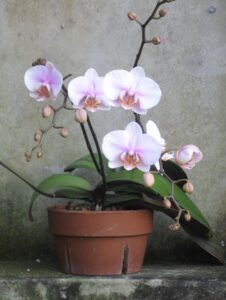 This is the time of year when a flowering plant can seem like a miracle. Cut flowers just don't cut it. Kept alive through refrigeration, there's too often a funereal feeling about them. The heady scent of lilies, the bright smile of Gerbera daisies can't mask the truth that you're looking at something that's been knifed and has only days to live. An orchid on the other hand, even the $20 moth variety sold by the hundreds at Whole Foods, can last for months. (Which is quite a bargain considering that, at the height of Orchidelirium in Europe in the 1800s, a single orchid plant could go for thousands of dollars.) Their flowering is a performance art: tightly furled blossoms that unwrap themselves in a tantalizing, slow motion striptease. They prefer snug spaces and indirect light and not being fussed over — like cats (who, by the way, leave orchids alone). Scentless for the most part, their beauty is all about form and balance.
Here's a poem on the subject by the late American poet and publisher Sam Hamill who, together with Tree Swenson, founded Copper Canyon Press, one of the country's finest poetry houses.
The Orchid Flower

by Sam Hamill
(1943 – 2018)
Just as I wonder
whether it's going to die,
the orchid blossoms
and I can't explain why it
moves my heart, why such pleasure
comes from one small bud
on a long spindly stem, one
blood red gold flower
opening at mid-summer,
tiny, perfect in its hour.
Even to a white-
haired craggy poet, it's
purely erotic,
pistil and stamen, pollen,
dew of the world, a spoonful
of earth, and water.
Erotic because there's death
at the heart of birth,
drama in those old sunrise
prisms in wet cedar boughs,
deepest mystery
in washing evening dishes
or teasing my wife,
who grows, yes, more beautiful
because one of us will die.