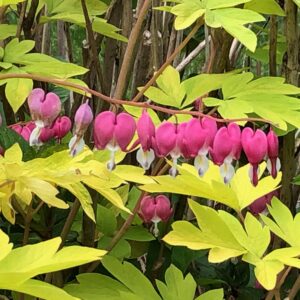 Intricate as origami, among the first plants in the garden to flower every spring, bleeding hearts are as cheery and old-fashioned as hand-made valentines.  They seem to appear, fully formed, overnight. Their sprays of blossoms — each a heart-shaped pouch dangling a tiny white fan — float like Japanese lanterns above luminous fern-like foliage. Cultivated bleeding hearts, members of the poppy family, originated in Asia and were first brought to England in the early 1800s, though there's also a wild variety native to North America that can be found in the woodlands of the Appalachians.
Gardens are so deeply rooted in our lives, perhaps particularly so this time of year when the smell of lilacs — one of nature's most poignant aromas — can stop us in our tracks, stricken by the force of memory.  It's the ephemeral beauty of gardens, I think, that fills us with such longing and joy. Here, in this moment, bleeding hearts are in their glory. Cut a spray or two; they'll last for a few weeks indoors. But the plants themselves die back in the heat of summer.  One morning you'll look out the window and realize that the delicate rigging of sprays and blossoms that sailed above the late spring garden are gone.
The Bleeding-heart
by Mary Oliver
I know a bleeding-heart plant that has thrived
for sixty years if not more, and has never
missed a spring without rising and spreading
itself into a glossy bush, with many small red
hearts dangling. Don't you think that deserves
a little thought? The woman who planted it
has been gone for a long time, and everyone
who saw it in that time has also died or moved
away and so, like so many stories, this one can't
get finished properly. Most things that are
important, have you noticed, lack a certain
neatness. More delicious, anyway, is to
remember my grandmother's pleasure when
the dissolve of winter was over and the green
knobs appeared and began to rise, and to cre-
ate their many hearts. One would say she was
a simple woman, made happy by simple
things. I think this was true. And more than
once, in my long life, I have wished to be her.