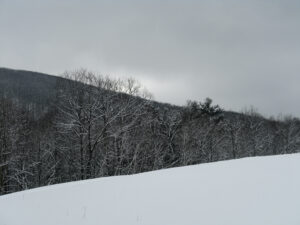 This is the time of year when the contours of the Berkshire hills once again dominate the view. Gentle and curvaceous, they recline against the winter landscape, silent as the snow that often covers their flanks. Melville imagined Mount Greylock which filled his vista to the north as a white whale breaching the surface: Moby-Dick in all his ferocious beauty. Harvey Mountain, which looms above us can seem like an enormous wave about to break, its spume of snow whistling down through the hemlocks. The Berkshires ­are among the oldest mountains in the world, first formed when Africa collided with North America creating the Appalacian range, then gradually weathered and carved into their present shape — earth's good bones — over the last 500 million years.
This poem by the American poet Maggie Smith went viral after the Orlando nightclub shooting five years ago and has now been shared hundreds of thousands of times.  Though dark, I share it here as a fitting way of closing out this dismal year.
Good Bones
by Maggie Smith
Life is short, though I keep this from my children.
Life is short, and I've shortened mine
in a thousand delicious, ill-advised ways,
a thousand deliciously ill-advised ways
I'll keep from my children. The world is at least
fifty percent terrible, and that's a conservative
estimate, though I keep this from my children.
For every bird there is a stone thrown at a bird.
For every loved child, a child broken, bagged,
sunk in a lake. Life is short and the world
is at least half terrible, and for every kind
stranger, there is one who would break you,
though I keep this from my children. I am trying
to sell them the world. Any decent realtor,
walking you through a real shithole, chirps on
about good bones: This place could be beautiful,
right? You could make this place beautiful.