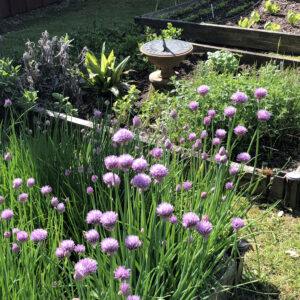 The snake is back in the vegetable garden.  I heard him this morning, slithering through the dead leaves between the compost bin and the sprouting raspberry canes.  I haven't seen him yet, but I know what he looks like: a sinuous foot or so of black checkerboard skin with bright yellow racing stripes running down the length of his body. Generations of garter snakes have staked out that corner of the garden for as long I can remember.  It's one of the great pleasures of spring to see familiar faces returning.  You never know from one year to the next what will make it through the harsh New England winter.  Oh — look! — here come the chives, the sage, and the mint which wiggles up in overeager patches all over the place.  The clump of red-veined sorrel — almost too pretty to eat — that seems to have sprung from the earth fully formed overnight.  But the Italian parsley, which had wintered-over two years in a row, is a no-show this season. And the thyme which usually overspills the raised bed in enthusiastic abundance is just a hopeless snaggle of dead twigs.
The ants, however, are back en masse which brings to mind this poem by the American poet Timothy Steele.  His keen eye and artful use of meter and rhyme make him a perennial favorite of mine.
Herb Garden
by Timothy Steele
"And these, small, unobserved . . . " —Janet Lewis
The lizard, an exemplar of the small,
Spreads fine, adhesive digits to perform
Vertical push-ups on a sunny wall;
Bees grapple spikes of lavender, or swarm
The dill's gold umbels and low clumps of thyme.
Bored with its trellis, a resourceful rose
Has found a nearby cedar tree to climb
And to festoon with floral furbelows.
Though the great, heat-stunned sunflower looks half-dead
The way it, shepherd's crook-like, hangs its head,
The herbs maintain their modest self-command:
Their fragrances and colors warmly mix
While, quarrying between the pathway's bricks,
Ants build minute volcanoes out of sand.