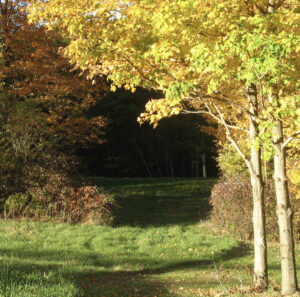 "We look at the world once, in childhood, the rest is memory," Nobel Prize-winning poet Louise Glück wrote in her poem "Nostos".  I've been thinking about the wisdom of those lines these past few golden weeks in the Berkshires. Working in the garden as the last of the leaves drift down from the maples, I realize how much of what I feel is filtered through the past. The smell of woodsmoke. The honking of geese at night. The full Hunter's moon rising over Harvey Mountain. All these moments have a feeling of déjà vu, memories piled on top of memories, smoldering like the fires my father built along our driveway to burn the leaves when I was a girl. That was the world I first saw, the autumn I first remember, the season against which I've measured all the ones that have come after.  Here's a poem on the subject by Maggie Smith who writes so beautifully about motherhood.
First Fall
by Maggie Smith 
I'm your guide here. In the evening-dark
morning streets, I point and name.
Look, the sycamores, their mottled,
paint-by-number bark. Look, the leaves
rusting and crisping at the edges.
I walk through Schiller Park with you
on my chest. Stars smolder well
into daylight. Look, the pond, the ducks,
the dogs paddling after their prized sticks.
Fall is when the only things you know
because I've named them
begin to end. Soon I'll have another
season to offer you: frost soft
on the window and a porthole
sighed there, ice sleeving the bare
gray branches. The first time you see
something die, you won't know it might
come back. I'm desperate for you
to love the world because I brought you here.