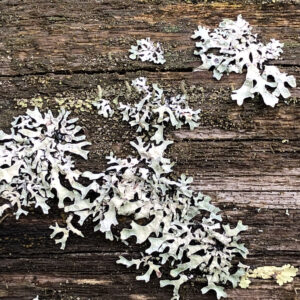 In this in-between season, before the snow falls, when the light slants at a lower angle, the eye is drawn to what the foliage and flowers had kept hidden: the almost otherworldly beauty of lichens. Splayed across stones, spreading over old walls and rotting wood, lichens thrive in the most unlikely places. From sea level to alpine heights, lichens can grow in Arctic tundra, sandy deserts, rocky coastlines, even toxic slag heaps. Though they sometimes look moss-like, they're not related to moss — or any other plant. Lichens are actually composite, symbiotic organisms: a combination of a fungus and an alga.  The fungus gives the lichen its structure and the alga its ability to perform photosynthesis. There are over 20,000 known species, covering an estimated 6 – 8 percent of the world's surface. Some lichens are believed to be among the oldest living things on the planet. They take on many different shapes and colors and textures and can be difficult to correctly identity. But I believe the silvery, leaf-like lichen in the photo above that's been growing for years on the wooden gate of our vegetable garden is a foliose variety. Here's a poem on the subject by one of my favorite contemporary American poets.
For the Lobaria, Usnea, Witches Hair, Map Lichen, Beard Lichen, Ground Lichen, Shield Lichen
by Jane Hirshfield
Back then, what did I know?
The names of subway lines, busses.
How long it took to walk 20 blocks.
Uptown and downtown.
Not north, not south, not you.
When I saw you, later, seaweed reefed in the air,
you were grey-green, incomprehensible, old.
What you clung to, hung from: old.
Trees looking half-dead, stones.
Marriage of fungi and algae,
chemists of air,
changers of nitrogen-unusable into nitrogen-usable.
Like those nameless ones
who kept painting, shaping, engraving,
unseen, unread, unremembered.
Not caring if they were no good, if they were past it.
Rock wools, water fans, earth scale, mouse ears, dust,
ash-of-the-woods.
Transformers unvalued, uncounted.
Cell by cell, word by word, making a world they could live in.