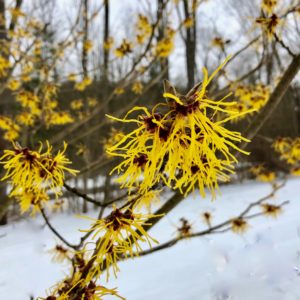 It seemed for a time, for most of January actually, that winter had passed us by. We racked up weeks of mild weather when the occasional rain segued into snow which melted politely away by morning. The daffodils started to push up.  The witch hazel shimmied with its gaudy gold and crimson tassels. Surely spring was right around the corner?  It was our year of magically thinking that we'd dodged the cold dark bullet that is February. Then the wind kicked in. The temperatures plummeted.  The muddy road froze solid with ruts as deep and hard as luge tracks. The rain turned to sleet. We woke up yesterday morning to a world made of glass: every tree and shrub and left-out lawn chair glittered with a thick coating of ice.  So lovely! Until an old cherry at the bottom of the drive collapsed under its icy armor. And the power went out. It's in the single digits this morning with snow in the forecast and two winter storms brewing on the horizon. I don't think anybody has addressed this month of the year with more finesse than Margaret Atwood, the Canadian novelist (The Handmaid's Tale), essayist, environmental activist, and award-winning poet.
February
by Margaret Atwood
Winter. Time to eat fat
and watch hockey. In the pewter mornings, the cat,
a black fur sausage with yellow
Houdini eyes, jumps up on the bed and tries
to get onto my head. It's his
way of telling whether or not I'm dead.
If I'm not, he wants to be scratched; if I am
He'll think of something. He settles
on my chest, breathing his breath
of burped-up meat and musty sofas,
purring like a washboard. Some other tomcat,
not yet a capon, has been spraying our front door,
declaring war. It's all about sex and territory,
which are what will finish us off
in the long run. Some cat owners around here
should snip a few testicles. If we wise
hominids were sensible, we'd do that too,
or eat our young, like sharks.
But it's love that does us in. Over and over
again, He shoots, he scores! and famine
crouches in the bedsheets, ambushing the pulsing
eiderdown, and the windchill factor hits
thirty below, and pollution pours
out of our chimneys to keep us warm.
February, month of despair,
with a skewered heart in the centre.
I think dire thoughts, and lust for French fries
with a splash of vinegar.
Cat, enough of your greedy whining
and your small pink bumhole.
Off my face! You're the life principle,
more or less, so get going
on a little optimism around here.
Get rid of death. Celebrate increase. Make it be spring.