The phoebes are busy setting up housekeeping under our eaves.  All day long they swoop and whistle to each other — phoebe, phoebe — and pick through the dead grass to line their nests. They're usually the first of the migratory birds to return to their breeding grounds, harbingers that another spring has arrived, that nature's ancient rhythms are quickening again.  It's a moment to cherish. Especially now that we know birds across the globe are vanishing from our skies in staggering numbers. Over the last fifty years, one third of the birds of North America alone have disappeared.
How did this happen?  What can we do about it? In A Wing and a Prayer, published this month, my brother Anders Gyllenhaal and his wife Beverly, both veteran journalists, take us on a fascinating journey to the front lines of the fight to reverse this terrifying trend.  During the pandemic, they packed up their Airstream and traveled more than 25,000 miles to interview the scientists and foresters, researchers and farmers who are employing age-old practices and fascinating new technologies to save the birds. The result is a book that Susan Page of USA Today called "a soaring achievement, beautiful and compelling."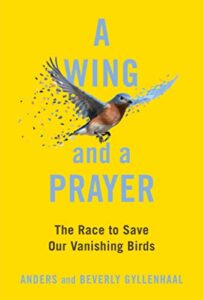 Anders and Beverly are back in their Airstream now, wending their way up the East Coast on a book tour.  They'll be giving a talk, including a slide show of more of Anders' photographs (shown above) on Thursday, July 6th at 7 p.m. at the Old Town Hall in West Stockbridge, MA. A reception and book signing will follow at Shaker Mill Books. For more information on the book and to order a copy, please visit: https://flyinglessons.us/our-upcoming-book/
Here's a poem by the American poet R.T. Smith which beautifully captures how the most common of birds in the most familiar of situations can remind us of the "shadowy bliss we exist to explore."
Hardware Sparrows
by R. T. Smith
Out for a deadbolt, light bulbs
and two-by-fours, I find a flock
of sparrows safe from hawks
and weather under the roof
of Lowe's amazing discount
store. They skitter from the racks
of stockpiled posts and hoses
to a spill of winter birdseed
on the concrete floor. How
they know to forage here,
I can't guess, but the automatic
door is close enough,
and we've had a week
of storms. They are, after all,
ubiquitous, though poor,
their only song an irritating
noise, and yet they soar
to offer, amid hardware, rope
and handyman brochures,
some relief, as if a flurry
of notes from Mozart swirled
from seed to ceiling, entreating
us to set aside our evening
chores and take grace where
we find it, saying it is possible,
even in this month of flood,
blackout and frustration,
to float once more on sheer
survival and the shadowy
bliss we exist to explore.