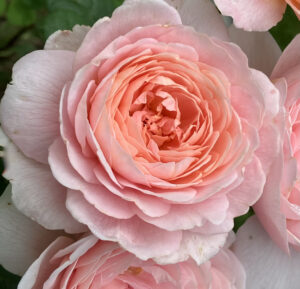 Growing roses in the Berkshires is a thorny proposition at best. The season is too short. The winters too long. The weather unpredictable throughout the year. This summer, June was one endless dry spell while most of July seemed to have passed under a severe thunderstorm warning.  But even when conditions are at their best, the rewards tend to be fleeting. There's usually about a two- week window between the moment the first blossoms unfurl to the morning when the advance guard of Japanese Beetles land like an invading army (or air force) on the roses' delicate blooms.
Is it worth it?  Most passions defy logic. I fell in love with roses as a girl in the beautiful and extensive rose garden my paternal grandmother created in the small Pennsylvania town where I grew up.  In the midst of the Depression, newly widowed and with six children to raise, my grandmother began what was to become a horticultural heaven on earth that remains to this day — in the hands of a first cousin — an Edenic refuge. My love of roses and my grandmother are no doubt co-mingled, memories faded but still potent, like that wonderfully musty aroma of long-dried rose petals.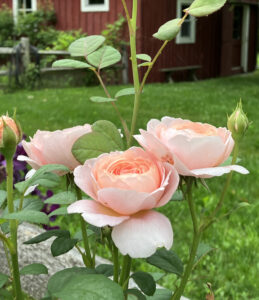 I've grown all sorts of roses over the years with varying degrees of success — Damask, Gallica, Alba, Rugosa — but lately have been taken with English Roses, specifically the re-blooming hybrids created by the renowned breeder and writer David Austin.  His Queen of Sweden (pictured above and left) form tightly furled cups in a lovely pale pink tinged with peach that hold their shape in the hottest of summer afternoons.  As is probably evident here, the subject of roses tends to bring out the nostalgic and cliched in a writer.  Thank heavens for Dorothy Parker.
One Perfect Rose
Dorothy Parker
A single flow'r he sent me, since we met.
     All tenderly his messenger he chose;
Deep-hearted, pure, with scented dew still wet—
     One perfect rose.
I knew the language of the floweret;
     "My fragile leaves," it said, "his heart enclose."
Love long has taken for his amulet
     One perfect rose.
Why is it no one ever sent me yet
One perfect limousine, do you suppose?
Ah no, it's always just my luck to get
One perfect rose.