The concept that gardens are best designed as outdoor "rooms" is one that seems as old as Rome and that has been borne out over the centuries.  Think of the Boboli Gardens in Florence and the endless wooded trysting alcoves at Versailles.  Two twentieth-century examples — and both meccas for garden lovers — are Villandry in the Loire Valley and Dumbarton Oaks in Georgetown. If I had one overall take-away from this past Saturday's "The Hidden Gardens of Spencertown" tour it was that the most beautiful outside spaces really are like green mansions, complete with suites and corridors, ballrooms and bedchambers, and even kitchens — all with the deep blue sky for a ceiling.  And, in many ways, planning a garden is not all that different from building and decorating a house — with just as many possible missteps and pitfalls. Here are a few lessons I picked up along the way on Saturday's tour:
1. Less is more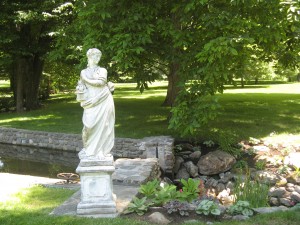 Donna Nadeau's and Ralph Lofreddo's garden on Crow Hill Road in Spencertown is set back from the road beyond a creek and approached across a gated bridge. Water catches the attention at every turn: a fountain surrounded by irises, the capacious swimming pool shaded by Norway spruces, the stream that winds throughout the property crisscrossed with footbridges. Shrubs and trees furnish these spacious outdoor rooms with a sense of serenity and elegance.  The eye is allowed the space and freedom to light on the curve of a stone wall, the shimmer of the distant pond.  Less is more when it comes to perennials.  Most annuals would look as fussy as throw pillows here.
2.  Play to your strengths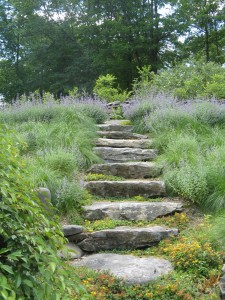 Linda Horn's and Allan Davidson's property up the road from the Nadeau/Lofreddo place slopes precipitously down a sunny hillside and has an enormous waterfall thundering through the back yard.  Like a tall girl who insists on five inch spiked heels, they've refused to try to harness or soften these dramatic features.  Instead, they've encouraged nature to take its course, creating a sustainable ecosystem that is also a model of low-maintenance gardening.  Ferns and nepeta abound.  A series of stone steps are as striking as artwork. In fact, the sculptural pieces that Linda creates are woven so seamlessly into the landscape that it takes a moment or two to tell the difference between her — and nature's — handiwork.
3.  Love what you do
Joyce and Ken Ketay have been building their gardens on former farmland in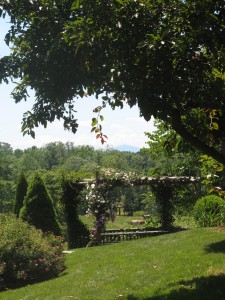 Claverack for the past ten years.  They were so dedicated to gardening that they planned and installed their various outdoor "rooms" before they renovated the farmhouse. They do all the work themselves.  And their love for the land and the art of gardening shines through in every detail.  They've created a dreamscape out of trees, shrubs, plants, and perfectly chosen architectural elements.  We commiserated about stones, which are almost a cash crop in the Berkshires and in Woodstock where they used to live and garden mostly in the shade. Sunshine and farmland made all the difference.  Working the soil in Claverack is like "digging in butter," they told me, because the farmers before them had done all the heavy lifting. Joyce encouraged me to walk down into the fields below the house to get a long view of their property and the adjoining Painted Lady Victorian.  "You really have to see it as a whole," she said.
Another lesson learned.