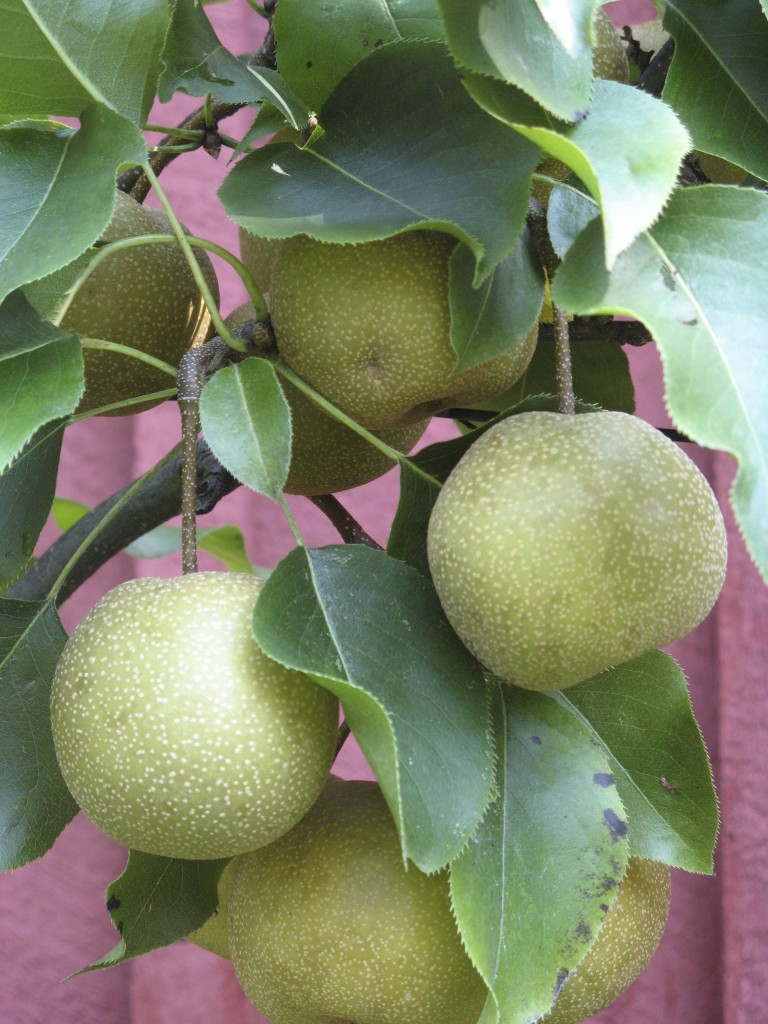 A lovely old pear tree grew outside my bedroom as a child, and the memory of its sweet-smelling blossoms drifting past my window still fills me with a mixture of joy and longing. So, several years ago, I decided to plant some fruit trees of my own on our property in the Berkshire hills of Massachusetts. If all the many old, abandoned orchards in the area were any indication, fruit trees flourish in our rocky, temperamental southern New England climate.
I signed up for a class at the Berkshire Botanical Garden down the road, (a great resource for the neophyte gardener), called "Growing Fruit Trees for Fun and Profit." But the very first words out of the instructor's mouth were "don't even think about starting an orchard unless you intend to fence the area in with sturdy, preferably electrified fencing, or the deer will destroy whatever you try to grow."
I was crest-fallen. I didn't want a heavy-duty fence running around my orchard — (especially not one that was electrified!) — as it was the beauty of the trees themselves as much as the eventual fruit that appealed to me. Besides, we already had a large fenced-in vegetable garden. It took a trip to France that fall — and a serendipitous visit to a cloister with a long row of beautiful old espaliered fruit trees — for me to settle upon the perfect solution to my dilemma.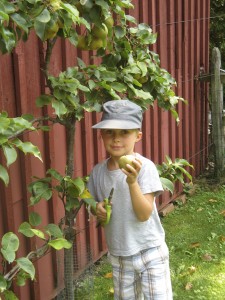 Espaliering (literally meaning shoulder or support) is an old French gardening technique for training and pruning trees and shrubs on trellises or wires. Not only is an espaliered tree lovely to behold, it's a great way of getting maximum yield out of a limited space. The following spring we put in two trees along the back of the vegetable garden supported by wires against the old stable, each grafted with two different kinds of pears. So, altogether, in the space about the size of a hall closet, I now have a small orchard producing a yearly fall crop of Anjou, Asian, and Bartlett pears.
There have been set-backs along the way: one year, a late spring frost destroyed most of the blossoms (which produce the fruit). Though I've kept the deer at bay, chipmunks love to climb the trees, knock off the pears and eat their booty on the ground. (Though, more maddening still, they generally take only a disinterested bite or two!)
This year, however, with a long wet spring and an unusually hot, dry summer everything came together (or, as in the case of the chipmunks, stayed away) to yield a big, beautiful bumper crop of pears. For the first time, I had more on my hands than could be easily sliced up for breakfast or used in my usual pear, Roquefort, walnut and arugula salad.
If you have any questions about starting an espalier — please write to me here. (You can post your questions in the comments area following this blog or email me at Liza@LizaGyllenhaal.com)
I'd love to share what I've learned about this great way to grow your own trees — for the fruit and just for the pure joy of it!