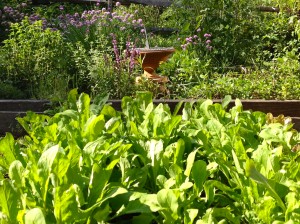 Though nothing is tastier than arugula picked fresh from the garden and served in a salad with a light vinaigrette, it's also great tossed in pasta, turned into a pesto, layered on home-made pizza, and folded into a frittata. But my all-time favorite summer arugula recipe is the one below from the wonderful Union Square Café Cookbook. I use the less fatty and expensive New York Strip instead of the Rib Eye. For a quintessential mid-summer meal, serve the dish with fresh corn on the cob.
Seared Rib Steak with Rosemary and Arugula
1/2 cup plus 1 tablespoon extra-virgin olive oil
1/4 cup chopped rosemary
3 tablespoons balsamic vinegar
Salt and freshly ground pepper
One 1-pound prime rib-eye (or strip) steak, about 1 1/4 inches thick, fat trimmed
6 ounces arugula, large stems discarded
Lemon wedges, for serving
Preheat the oven to 400°. In a small saucepan, combine 1/2 cup of the olive oil with the chopped rosemary and bring to a simmer over moderate heat. Remove from the heat and let stand for 10 minutes. Strain the oil through a fine sieve and let cool completely; reserve 1/2 teaspoon of the rosemary. Whisk the balsamic vinegar into the oil and season with salt and pepper.
In a medium ovenproof skillet, heat the remaining 1 tablespoon of olive oil until shimmering. Season the steak with salt and pepper and cook over high heat until well browned on the bottom, about 3 minutes. Turn the steak, transfer the skillet to the oven, and roast for about 8 minutes for medium-rare meat. Transfer the steak to a carving board and let it rest for 5 minutes.
Toss the arugula with 1 tablespoon of the rosemary vinaigrette and mound the salad on two dinner plates. Thinly slice the steak crosswise and arrange it over the arugula. Sprinkle each serving with 1/4 teaspoon of rosemary and then drizzle with 1 teaspoon of the rosemary vinaigrette. Refrigerate the remaining vinaigrette for another use. Serve with lemon wedges.
MAKE AHEAD: The vinaigrette can be refrigerated overnight. Bring to room temperature before using.