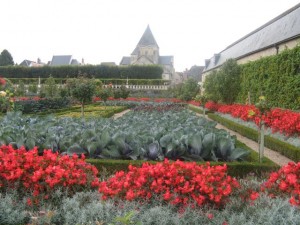 French gardens are a lot like French women: chic and elegant and pulled together in a way that makes the average American gardener want to just throw in the spade.  I've made something of a study of the French garden over the years — from the glorious and enormous public jardins to the perfect little vegetable patches or potagers that seem to be tucked behind every cottage in the countryside — and I've come to the conclusion that it's just one of those things in life that will remain forever out of my grasp.  (Like, alas, the French language itself.)
How in the world do the French do it?  Combine geraniums, grasses, and giant dahlias in a kind of spirited, swirling floral dance not unlike a chorus line in the Folies Bergere?  How do they make cabbages actually appear beautiful?
The pinnacle of this sort of gardening perfectionism (and perhaps madness) must be the acres of pure obsessive brilliance that comprise the Chateau de Villandry in the Loire Valley.  Take a leisurely digital stroll through this breathtaking creation — centuries in the making — and worth the entire price (even in today's inflated euro) of a 10-day trip to France:  Click here for the garden website.