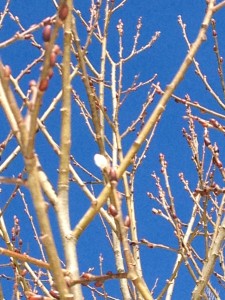 We like March — his shoes are Purple. He is new and high — Makes he Mud for Dog and Peddler — Makes he Forests Dry — Knows the Adders Tongue his coming And begets her spot — Stands the Sun so close and mighty — That our Minds are hot. News is he of all the others — Bold it were to die With the Blue Birds buccaneering On his British Sky —             Emily Dickinson (version of 1878)  
Though the Berkshires are still covered in nearly a foot of iced-over snow, if you look very carefully, you can detect the first faint signs of spring.  March, with what Dickinson so aptly called "his purple feet," is starting to creep across the fields and slip through the underbrush. The witch hazel branches are knobby with new growth which, in another few weeks, will explode into clusters of chrome yellow with hot red centers — each a miniature fireworks display.  I caught the acrid scent of skunk this afternoon outside our garage.  And, when I walked down to the creek where several years ago I planted three pussy willow bushes, I saw that — here and there — a popcorn-size blossom had burst through its casing.
One of my first memories as a child was the pussy willow shrub that grew at the back of our garden.  I was the youngest then, the only girl, and often found myself playing alone.  As I think happens with many of us who eventually become gardeners, trees and plants and animals were my playthings when I was young.  Remember that nursery rhyme:  "I know a little pussy/her coat is silver grey/she lives down in the meadow/not very far away."  I think that was one of the first images I understood.  That the poem was about a pussy willow seemed magical to me.  As often happens with those of us who like to write, words became my playthings, too.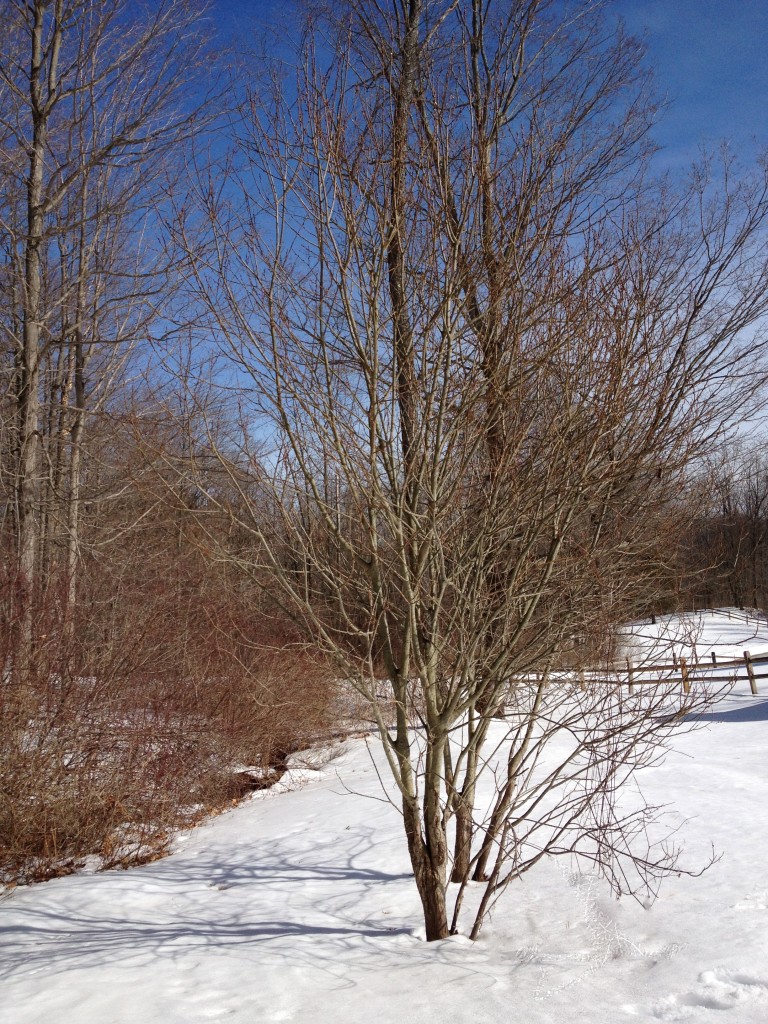 The pussy willows  (Salix caprea) that I originally planted along the course of our seasonal brook grew so tall in that marshy and exposed spot that one of them toppled over a few years ago.  Except for their short-lived moment of glory in the early spring, I know they don't add a great deal to the landscape.  But I love them.  The way we tend to love the scents and sounds of our childhood.  Cinnamon.  Fur Elise.  Woodsmoke.  Those shrubs were among the first things I put in when we brought our place.  As we all try to do in one way or another, I suppose I was attempting to recapture an unrecoverable Eden.  Though the pussy willows at the height of their flowering — their branches studded with bright furry buds  — make it almost seem that I've done just that.
Are there plants or trees in your garden  —or life — that have sentimental value to you? Write to me below.  I'd love to hear from you!