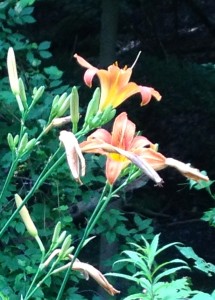 There's nothing like a daylily to remind us that life is both fleeting and beautiful. The flowers of the Hemerocallis — which literally means "day" and "beautiful" in Greek — last only 24 hours. The bright orange flutes of yesterday are withered like spent party balloons today, often drooping from the same flower stalk as the new day's fresh-faced offering. The center of the flower is called its "throat" and is a different, contrasting color than the rest of the plant. Shaped like a trumpet, the daylily embodies the ancient imperative: carpe diem!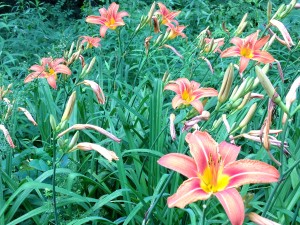 Daylilies are everywhere now. They line the roadside in thick ranks. They steal into the garden border among the phlox, "volunteering" for duty. But they should be dug up immediately, because they spread so quickly and are almost impossible to root out. They can't be cut for bouquets, either, as the flowers fade so quickly. They can only be admired for what they are and for as long as they last — as "wild and precious" as life itself.  Here's a poem by the great American nature poet Mary Oliver on the subject. (For more on Mary Oliver, please visit: http://www.poets.org/poetsorg/poet/mary-oliver)
The Summer Day
Who made the world? Who made the swan,  and the black bear? Who made the grasshopper? This grasshopper I mean— the one who has flung herself out of the grass, the one who is eating sugar out of my hand, who is moving her jaws back and forth instead of up and down— Now she lifts her pale forearms and thoroughly washes her face. Now she snaps her wings open, and floats away. I don't know exactly what a prayer is. I do know how to pay attention,  how to fall down into the grass, how to kneel down in the grass, how to be idle and blessed, how to stroll through the fields, which is what I have been doing all day. Tell me,  what else should I have done? Doesn't everything die at last, and too soon? Tell me, what is it you plan to do with your one wild and precious life?