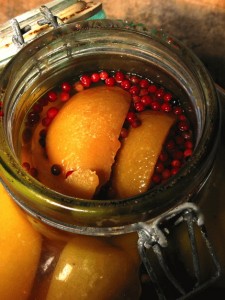 Preserved lemons, the key ingredient in many Moroccan and Indian dishes, are lemons that have been pickled in a salty brine with various other spices and fermented for several months before using. They have a uniquely tart and intensely lemony taste. I first came upon them when my sister, working then as personal trainer, took on the well-known New York caterer Serena Bass as a client. Serena would generously trade goods and services for my sister's work-outs, so the occasional family birthday or holiday celebration would end up a feast created by someone more accustomed to catering events for Sarah Jessica Parker, Julia Roberts, Keith Richards, or Marc Jacobs.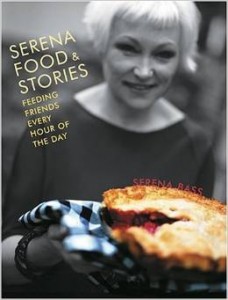 Serena also wrote a witty and delightful book that, though it's about cooking and includes a terrific collection of recipes, is really more an invitation to some of the most glamorous, fun- and food-filled parties you'll ever attend. The "Summer Dinner" chapter includes a recipe for "Couscous with Dates, Pine Nuts, and Preserved Lemon" that has become the backbone of my summer culinary repertoire. It's actually delicious at any time of the year and can be made with the rind of a regular lemon. But if you start preserving a batch of lemons within the next month or two, you'll have some very special diced lemon peel to scatter over this delectable couscous for your Memorial Day picnic.
Couscous with Dates, Pine Nuts, and Preserved Lemon
Ingredients
  One 10-ounce box plain couscous, preferably Near East brand 2 tablespoons extra virgin olive oil 2 teaspoons kosher salt, divided ¼ of a preserved lemon (see below) 6 dates, pitted, cut down the middle, then across, into ¼ inch pieces ¼ cup pine nuts, roasted to a light brown ¼ teaspoon freshly ground black pepper ½ teaspoon ground cumin ¼ cup minced fresh cilantro  
Directions
  Put the couscous in a wide bowl with the olive oil and 1 teaspoon of the salt. Pour on 2 cups of boiling water. Stir to mix and leave covered with a cloth (or plastic wrap) for 5 minutes to absorb the water.   Use a fork to fluff the couscous; it there are any lumps, break them up by rubbing them gently between the palms of your hands. Pull the flesh off the peel of the preserved lemon and squeeze the salty juice over the couscous, discarding the pulp. Lay the peel flat and run a knife horizontally just under the pith to remove it; dice the remaining peel in 1/8
th
inch pieces and scatter over the couscous with the remaining teaspoon of salt, the dates, pine nuts, pepper, cumin, and cilantro and toss together.  
How to Make Preserved Lemons:
There are numerous recipes, but here's a particularly good one by Paula Wolfert, an expert in Moroccan cooking:  
http://www.epicurious.com/recipes/food/views/preserved-lemons-231570