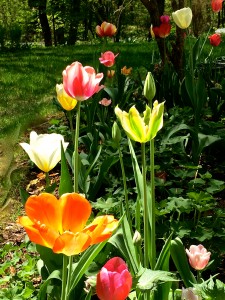 It's been another passive-aggressive spring in southern New England. Showing up weeks late, spring arrived in a tremendous rush this year — trailing swarms of insects and rapidly pushing the temperatures up into the eighties. The daffodils and tulips which had been dozing under a blanket of snow were shaken rudely awake and forced into flower almost overnight. As a result, my spring bulbs which usually are given the chance to take individual turns on the red carpet had to share the spotlight this year with all the other beauties.
I buy my tulips in bulk from White Flower Farm, favoring their "Pastel Stretch Mixture" which combines over 50 varieties of Dutch bulbs, so each bloom is a surprise. Though it normally takes a month or so for all of them to flower, this year they blasted up and open in just two weeks. They're in their final stages of life now, which reminded me of this lovely poem, composed in quatrains (four line stanzas) where the first and fourth line rhyme as do the second and third. It seems to me that the symmetry and whimsical tone of the poem subtly echoes that of the tulip itself.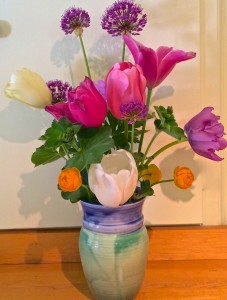 Tulips
 by A. E. Stallings   The tulips make me want to paint, Something about the way they drop Their petals on the tabletop And do not wilt so much as faint,   Something about their burnt-out hearts, Something about their pallid stems Wearing decay like diadems, Parading finishes like starts,   Something about the way they twist As if to catch the last applause, And drink the moment through long straws, And how, tomorrow, they'll be missed.   The way they're somehow getting clearer, The tulips make me want to
see
— The tulips make the other me (The backwards one who's in the mirror,   The one who can't tell left from right), Glance now over the wrong shoulder To watch them get a little older And give themselves up to the light.  
White Flower Farm is a wonderful place to visit, both in person and on-line at: http://www.whiteflowerfarm.com/index.html