I'm not alone in hating spiders. According to the Statistic Brain Research Institute arachnophobia ranks third — right behind fear of public speaking and fear of death — among the country's top phobias. Approximately 30 percent of all Americans are plagued by it. I won't go into detail about when my fear of arachnids began — though it involved my first night away from home and a top bunk inches from a ceiling where I was told "all the spiders lived" — but I still recoil at the mere suggestion of anything with eight legs.
In fact, I dislike almost everything about spiders. The way they skitter furtively across the floor … or drift down from their hidey holes to ensnare hapless flies in their sticky shrouds … or the angry three-pronged bites they leave behind on their stealthy nocturnal visits.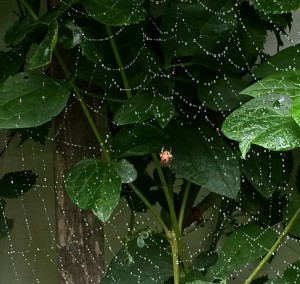 And yet, the other morning I had to stop in wonder at the sight of this web, hitched across the rose trellis, bejeweled with dew. It reminded me of Robert Frost's poem 'Design' which the critic Jay Parini has called "arguably one of the best sonnets every written by a American poet. It is a frightening poem, one that confronts the dire possibility that the universe is not only godless but that God is evil." I can't say for certain, but I tend to believe Frost was an arachnophobe, too.
Design
Robert Frost, 1874 – 1963   I found a dimpled spider, fat and white, On a white heal-all, holding up a moth Like a white piece of rigid satin cloth– Assorted characters of death and blight Mixed ready to begin the morning right, Like the ingredients of a witches' broth– A snow-drop spider, a flower like a froth, And dead wings carried like a paper kite.   What had that flower to do with being white, The wayside blue and innocent heal-all? What brought the kindred spider to that height, Then steered the white moth thither in the night? What but design of darkness to appall?– If design govern in a thing so small.