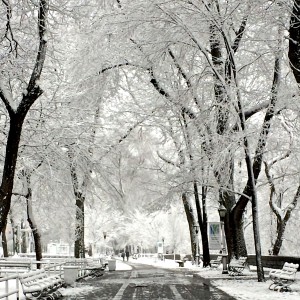 I thought of John Berryman's poem about Pieter Bruegel's painting 'Hunters in the Snow' as I walked through the winter wonderland this morning. Transforming the every-day, a snowfall makes you see the world more clearly — or in a new way — at least for a little while.
Bruegel's paintings do the same thing, I think, which is probably why they've inspired so many poems over the years, including W. H. Auden's wonderful Musée des Beaux Arts, Walter de la Mare's Bruegel's Winter, and William Carlos Williams's final book Pictures from Bruegel and Other Poems which was posthumously awarded the Pulitzer Prize. Bruegel's deep feeling for nature, his clear-eyed yet loving depictions of humankind, and his joyful sense of occasion make us want to stop — and look — and appreciate all over again what this Dutch genre painter set down so precisely on canvas almost 500 years ago.
Here's Bruegel's 'Hunters in the Snow' followed by Berryman's one-sentence poem:
WINTER LANDSCAPE
by John Berryman, 1914 – 1972
The three men coming down the winter hill
In brown, with tall poles and a pack of hounds
At heel, through the arrangement of the trees,
Past the five figures at the burning straw,
Returning cold and silent to their town,
Returning to the drifted snow, the rink
Lively with children, to the older men,
The long companions they can never reach,
The blue light, men with ladders, by the church
The sledge and shadow in the twilit street,
Are not aware that in the sandy time
To come, the evil waste of history
Outstretched, they will be seen upon the brow
Of that same hill: when all their company
Will have been irrecoverably lost,
These men, this particular three in brown
Witnessed by birds will keep the scene and say
By their configuration with the trees,
The small bridge, the red houses and the fire,
What place, what time, what morning occasion
Sent them into the wood, a pack of hounds
At heel and the tall poles upon their shoulders,
Thence to return as now we see them and
Ankle-deep in snow down the winter hill
Descend, while three birds watch and the fourth flies.