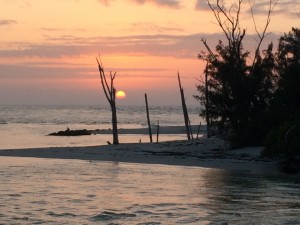 We watched the royal terns on Captiva Island last week gather in a group on the beach, facing the sunset over the Gulf of Mexico. They clustered together in a loose V-shaped formation, alert and somewhat pensive. It was as if they were waiting for someone or something that was long past due. The thick black caps of royal terns grow patchy in the winter months,
making them look a little like grumpy old men with comb-overs that lift in the breeze. They eyed us suspiciously as we walked past, shifting from foot to foot, muttering amongst themselves. We'd seen them in groups like this before and remain puzzled by what they were up to — neither feeding nor breeding — but forced together like strangers on a train platform.
They were gone by the time we walked back. Had what they were looking for arrived? Or had they given up? They left only the hieroglyphics of their webbed foot prints in the sand.
Here's a poem by the American poet and novelist Marge Piercy that includes a royal tern.
 Gracious Goodness
Marge Piercy
On the beach where we had been idly
telling the shell coins
cat's paw, cross-barred Venus, china cockle,
we both saw at once
the sea bird fall to the sand
and flap grotesquely.
He had taken a great barbed hook
out through the cheek and fixed
in the big wing.
He was pinned to himself to die,
a royal tern with a black crest blown back
as if he flew in his own private wind.
He felt good in my hands, not fragile
but muscular and glossy and strong,
the beak that could have split my hand
opening only to cry as we yanked on the barbs.
We borrowed a clippers, cut and drew out the hook.
Then the royal tern took off, wavering,
lurched twice,
then acrobat returned to his element, dipped,
zoomed, and sailed out to dive for a fish.
Virtue: what a sunrise in the belly.
Why is there nothing I have ever done with anybody
that seems to me so obviously right?