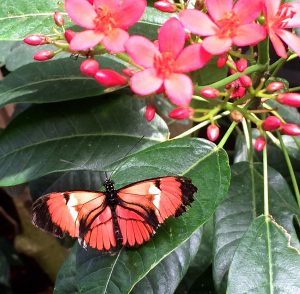 One Sunday when the world was still teetering between winter and spring, we drove east with friends through the Berkshire hills to South Deerfield, Massachusetts, home of Magic Wings Butterfly Conservancy and Gardens. From the outside, the building looks something like a large community sporting facility — a skating rink or bowling alley, perhaps — but inside it's heaven. This is the year-round home of some 4,000 exotic and domestic butterflies and moths, surrounded by a tropical paradise of hibiscus, ferns, bamboo, palm trees, lollipop plants, and an astounding variety of orchids. There's a koi pond, a waterfall, and several generations of quail, some newly hatched, that scuttle around your ankles as you make your way along the curving pathways.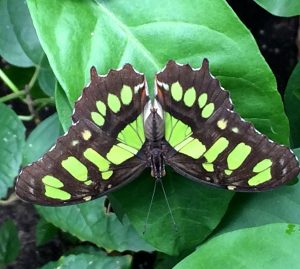 But mostly there are butterflies — floating above your head, brushing against your cheek, landing on your shoulder. Many, raised from larvae right on the property, have never known life anywhere else. Which may explain why there's no sense of captivity at Magic Wings, only that of wonder and welcome.
I saw my first butterfly this week in the Berkshires. It was light blue, about the size of quarter, clumsy as it fluttered around our still winter-weary garden. I think it might have been a very young Eastern Tailed-blue, but it was gone before I had a chance to get a better look. Still, a wonderful harbinger of wings to come.
Blue-Butterfly Day
by Robert Frost
It is blue-butterfly day here in spring,
And with these sky-flakes down in flurry on flurry
There is more unmixed color on the wing
Than flowers will show for days unless they hurry.
But these are flowers that fly and all but sing:
And now from having ridden out desire
They lie closed over in the wind and cling
Where wheels have freshly sliced the April mire.