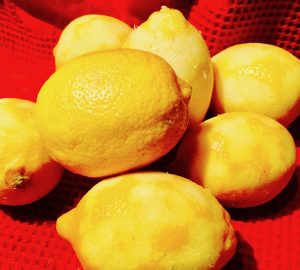 Christopher Columbus seems to have been knocked off his pedestal lately, but, to his credit, he did bring lemon seeds with him when he landed in Hispaniola in 1493. This bright hard sour little fruit has been cultivated for medicinal purposes for millennia and has curative powers that range from alleviating scurvy and dissolving kidney stones … to fighting colds, flu, and some claim even cancer. It's also a workhorse in the kitchen. I use lemons almost daily: in sauces and dressings, grated on green beans, or as a bed for roasted chicken. A few summers ago I was given a bottle of lemon oil by a visiting cousin, opening up new vistas of culinary possibilies. I drizzled it on grilled vegetables. Tossed it into pasta. It lent a light, subtle, citrusy vibe to everything it touched. And, of course, the bottle was gone almost over night. So I was delighted to come upon the recipe below in the New York Times that includes directions for making your own lemon oil — a remarkably simple undertaking. I definitely recommend putting up an extra batch or two. The lemon oil can last for a month in a sealed jar, though I doubt it will get the chance.
Bon appétit and Happy New Year!
Mackerel with Lemon Olive Oil and Tomatoes
Ingredients
For the lemon oil:
⅓ cup extra-virgin olive oil
Finely grated zest of 1 large lemon (save naked lemon for garnish)
For the fish:
6 to 8 large basil leaves, plus more for garnish
1 ½ pounds Atlantic mackerel fillets, or use cod or black sea bass (tautog) if unavailable
Fine sea salt and black pepper, to taste
1 to 2 tablespoons lemon olive oil, more as needed
¾ cup olives, preferably a mix of green and black, pitted and halved, or chopped
1 cup halved or quartered cherry tomatoes
Preparation
Make the oil: In a small saucepan over medium heat, warm the olive oil and lemon zest until you see the first tiny bubble appear on the side of the pan. Immediately turn off heat. You don't want the mixture to simmer.
Let infuse for at least 20 minutes (and preferably an hour) before using; you do not have to strain it. Oil can be made up to a month in advance. Store in a sealed jar at room temperature.
When ready to prepare the fish, heat oven to 425 degrees. Place the basil leaves on a rimmed baking dish and arrange fish on top. Sprinkle fish with salt and pepper, then drizzle the lemon oil over the fillets. Top with olives. Scatter tomatoes around the pan.
Roast until the fish is just cooked through, 5 to 7 minutes for thin fillets and up to 12 minutes for thick fillets.
Cut naked lemon into wedges. Serve fish drizzled with more lemon oil, garnished with lemon wedges and torn basil leaves.