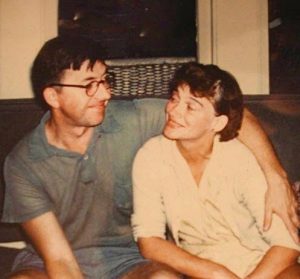 I came upon it recently while looking for something else. Of the dozen or so keepsakes that I claimed when my five siblings and I divvied up my mother's possessions after her death, this one was easy to overlook: a small, yellowing rectangle of paper upon which was scribbled: "Each day is Valentines Day." It was written in my father's often un-decipherable hand, but a certain amount of care had been taken to make the five brief words legible. If I recall correctly, the message had once been glued to a red paper heart with white doily trimming. A home-made valentine, no doubt concocted in a state of panic on a late afternoon of a February 14th now lost in the mists of time.
My father, though a romantic, was disorganized and slapdash. Self-made, he embraced an improvisational approach to life. My mother, who never stopped longing for the financial security of her childhood, had to make do with her husband's seesawing fortunes. Surely a part of her yearned for a store-bought card and a box of good chocolates. But this is what she got — and what she kept. Year after year, taking it with her as her world devolved from a ramshackle 32-room mansion and large, chaotic family, to a far-too-early widowhood and the quiet one-bedroom apartment of her final decades. The little fading rectangle was always tucked — like a post-it note reminder — into the mirror of her dresser where she could see it when she woke up every morning. "Each day is Valentines Day."
My Funny Valentine
My funny valentine
Sweet comic valentine
You make me smile with my heart
Your looks are laughable
Unphotographable
Yet you're my favorite work of art
Is your figure less than greek
Is your mouth a little weak
When you open it to speak
Are you smart?
But don't change a hair for me
Not if you care for me
Stay little valentine stay
Each day is valentines day
— Lorenz Hart