For the rain it raineth every day — from Twelfth Night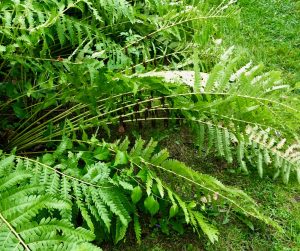 It's been a month of on and off rain.  Dull steady downpours.  Wild wind-driven tempests.  Lukewarm, almost weightless morning mists.  Thunderstorms have been in the forecast nearly every day — for weeks on end.  More often than not, the clouds that billow and darken into a mountain of threatening postures simply collapse of their own weight and disperse into a patchwork of sunlight and blue skies.  The other night, though, we had a deluge that pounded against the windows and flooded the basement.  In the morning, the ferns lay flattened and pitiful as supplicants and the sunflowers had collapsed face-down in the vegetable garden. I helped them up and roped them to the fence posts just as the Parisians used to do to with their sleeping drunks. Much of the spindly monarda and gossamer cosmos, though, was battered beyond repair, petals strewn like post-parade confetti across the soggy ground.
Here's a poem by Jane Kenyon on the subject.  She was married for over twenty years to the poet Donald Hall who puts in an appearance (by his absence) in the lines below. Both acclaimed poets, Hall and Kenyon moved in 1975 to Eagle Pond Farm in Wilmot, New Hampshire which had been in Hall's family for many generations.  Kenyon died from leukemia in 1995 at the age of forty-eight. Hall, who continued to live at Eagle Pond, passed away in June of this year at the age of ninety.
Heavy Summer Rain
Jane Kenyon
The grasses in the field have toppled,
and in places it seems that a large, now
absent, animal must have passed the night.
The hay will right itself if the day
turns dry. I miss you steadily, painfully.
None of your blustering entrances
or exits, doors swinging wildly
on their hinges, or your huge unconscious
sighs when you read something sad,
like Henry Adams's letters from Japan,
where he traveled after Clover died.
Everything blooming bows down in the rain:
white irises, red peonies; and the poppies
with their black and secret centers
lie shattered on the lawn.