One recent morning around dawn, I spotted a family of deer picking their way through our back woods. Deer tend to blend into the background this time of year, their coats the same color as the bare trees and fallen leaves. I probably would have missed them in the half light if it hadn't snowed the night before. They moved slowly and silently, glancing warily up at the house from time to time as if they knew I was watching.  Then they disappeared from view. It wasn't until an hour or two later when my husband said "look at that!" and pointed to the woods that I realized they'd come back.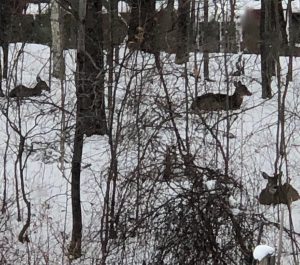 Now they were curled up under the trees. There's been a lot of construction up on the mountain nearby, and I suspect the deer were refugees from some safer and more secluded habitat. I'm not sure why I found their still silhouettes so moving. But I sensed they were exhausted from scavenging for food, and they had no choice but to let us see them at their most vulnerable: asleep, right before our eyes.
Here's a poem by the educator and poet Philip Booth who lived most of his life in Castine, Maine and who wrote movingly about man's uneasy place in the natural world.
How to See Deer
By Philip Booth
Forget roadside crossings.
Go nowhere with guns.
Go elsewhere your own way,
lonely and wanting. Or
stay and be early:
next to deep woods
inhabit old orchards.
All clearings promise.
Sunrise is good,
and fog before sun.
Expect nothing always;
find your luck slowly.
Wait out the windfall.
Take your good time
to learn to read ferns;
make like a turtle:
downhill toward slow water.
Instructed by heron,
drink the pure silence.
Be compassed by wind.
If you quiver like aspen
trust your quick nature:
let your ear teach you
which way to listen.
You've come to assume
protective color; now
colors reform to
new shapes in your eye.
You've learned by now
to wait without waiting;
as if it were dusk
look into light falling:
in deep relief
things even out. Be
careless of nothing. See
what you see.