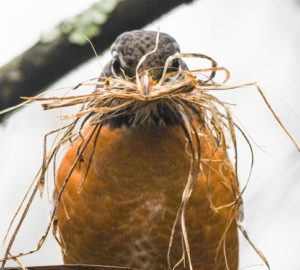 We've been watching the birds return to their summer homes these past few weeks.  One morning, an explosion of bright orange hit the living room window as a pair of claws scrabbled at the iron mullions, trying to gain a foothold.  It was a Baltimore Oriole, come back to the place that had offered free orange halves the year before.  I quickly nailed fresh oranges to the porch post and soon both a male and female (not to mention a sapsucker and red squirrel) were pecking at the fruit.
The orioles are nesting high up in the trees facing the house now.  A robin has built
her nest in the eaves of our barn.  It's a large, somewhat messy affair with straw, which I use to cover the vegetable beds in the winter, spilling down through the rafters.  A clan of quarrelsome bluejays has commandeered the towering hemlocks by the garage where, last year, the hummingbirds nested.  I'm not sure where they've moved to now; they seem to be coming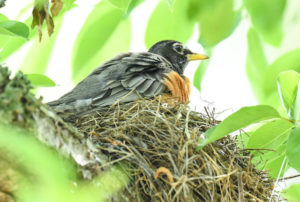 from all directions as they swoop down to hover at the feeders.  The other evening at dusk I was standing in the dining room, looking out at the back garden, when a hummingbird stopped in mid-flight, wings beating 80 times a second, and stared back at me for what felt like a long time.  Who are you?  it seemed to be asking.  What are you doing inside when there are so many wonderful places out here to nest?
These lovely photos of the robins (top and bottom) and a hummingbird (middle) were taken by my brother Anders Gyllenhaal who, together with his wife Beverly Mills, created and produce Flying Lessons https://flyinglessons.us/ a beautiful and inspiring website about what we can learn from the birds. And here's a poem on the subject by the American poet Li-Young Lee.
One Heart
Li-Young Lee
Look at the birds. Even flying
is born
out of nothing. The first sky
is inside you, open
at either end of day.
The work of wings
was always freedom, fastening
one heart to every falling thing.