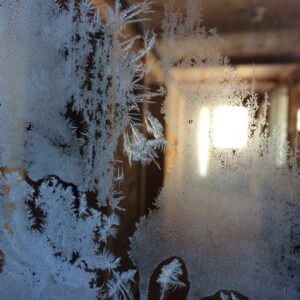 It's been cold, and it's getting colder.  The first sub-zero temperatures of the year will swoop in this weekend — the kind of cold that's beyond any given degree or wind chill factor.  Cold that becomes an adversary, slapping your face so hard when you venture outside that your eyes water. Cold that turns your breath to smoke and your ears to burning cinders.  This is Dr. Zhivago cold, only without the snow-swept vistas and tinkling ice palace.  It's animal cold — raw, rough, and hungry.  It bites your nose and squeezes the blood out of your fingers and toes. Then it follows you back into the house, clinging to your clothes.
Here's a poem on the subject by the American poet Robert Francis who lived very frugally for over 60 years in a house he built for himself in Amherst, Massachusetts.  Little known in his lifetime and even less so now, he was a great admirer of Robert Frost who paid him the very Frostian compliment of being "of all the great neglected poets, the greatest."
Cold
Robert Francis
Cold and the colors of cold: mineral, shell,
And burning blue. The sky is on fire with blue
And wind keeps ringing, ringing the fire bell.
I am caught up into a chill as high
As creaking glaciers and powder-plumed peaks
And the absolutes of interstellar sky.
Abstract, impersonal, metaphysical, pure,
The dazzling art derides me. How should warm breath
Dare to exist – exist, exult, endure?
Hums in my ear the old U-father of freeze
And burn, that pre-post-Christian Fellow before
And after all myths and demonologies.
Under the glaring and sardonic sun,
Behind the icicles and double glass,
I huddle, hoard, hold out, hold on, hold on.