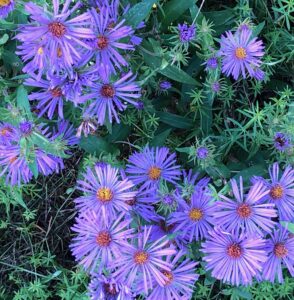 This is the time of year when clusters of small daisy-like blooms dot the landscape. Some are tiny and ghostly white, more froth than flower; others the size of half dollars with bright periwinkle petals and chrome yellow eyes. The Berkshires alone boasts more than 20 species of wild asters (Latin for "star") and there are several hundred known varieties around the country. Like Japanese Anemone and Sweet Autumn Clematis— other late bloomers — most asters seem too delicate and ethereal to stand up to Fall's sinking temperatures and rising winds. But they do — and put on quite a show in the bargain.  Though many of the New England asters I've tried to introduce into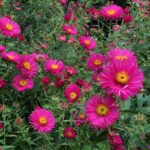 my garden haven't thrived, I've had good luck with the cultivated variety 'Alma Potschke' (pictured at right) whose vibrant crimson blooms light up the back of the border straight through until the first hard frost.
We had the upper field mowed last week, and I thought of this poem by Robert Frost and his apt description of "the headless aftermath."  Read this lovely lament for summer's passing, and you'll find an aster waiting for you at the end.
A Late Walk
By Robert Frost
When I go up through the mowing field,
     The headless aftermath,
Smooth-laid like thatch with the heavy dew,
     Half closes the garden path.
And when I come to the garden ground,
     The whir of sober birds
Up from the tangle of withered weeds
     Is sadder than any words.
A tree beside the wall stands bare,
     But a leaf that lingered brown,
Disturbed, I doubt not, by my thought,
     Comes softly rattling down.
I end not far from my going forth
     By picking the faded blue
Of the last remaining aster flower
     To carry again to you.